This Michael Rooker interview with him in full costume as Yondu was one of my favorites, but it honestly turned out to be the worst actual interview. We didn't get much content in the form of questions and answers, because, well, he was so interested in us! He took the time to look each of us in the eyes, ask us about our lives, find out where we're from, and made each and every one of us feel special.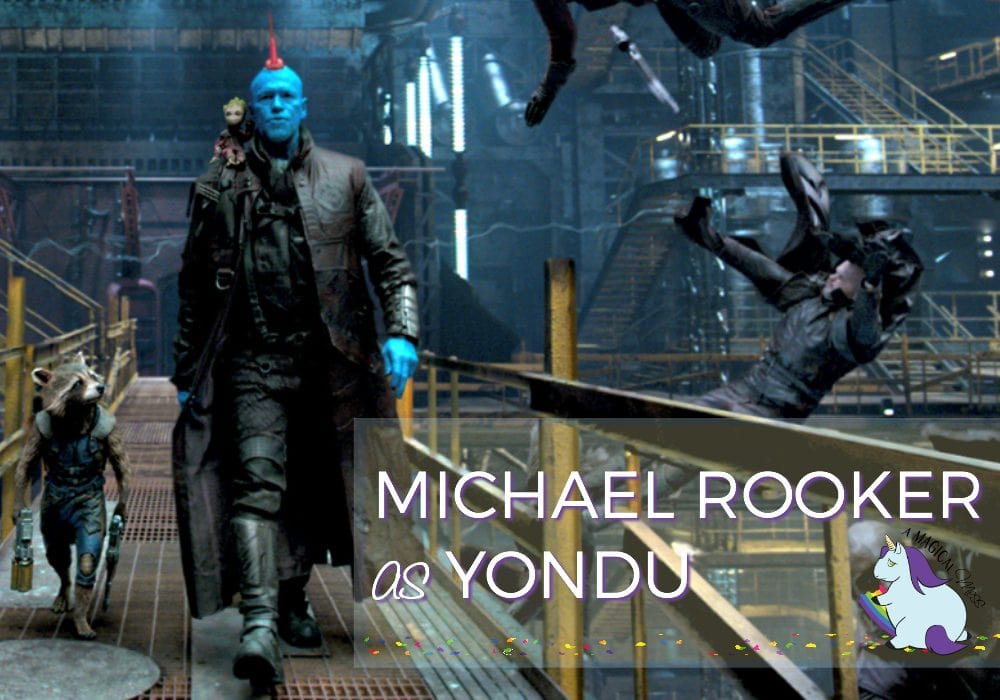 Michael Rooker Interview
This man LOVES playing this role. He's so into it, it's as if you're talking to an excited child that can't wait to show you everything like show and tell. He cannot contain it. It's incredibly endearing.
Makeup and Wardrobe
Michael Rooker walked in and immediately started showing us the details of his wardrobe and makeup. He first got real close to each of us to show us his gnarly red eyes–which are, of course, contacts. He also brought in his teeth and put them in so we could see the HUGE difference they make in his look. When we all gasped at the transformation he said, "I do the same thing when I saw myself in the mirror with it." They make it difficult to hold normal conversation and he explained how he had to learn how to talk with them in.
His makeup takes about two hours to complete and he said, "Half of this is makeup and half of this is just me. I'm like a blue man from Kentucky. You know they have real blue people in Kentucky… they're called 'the Blue People of Kentucky.'" I'll be Googling that later.
The Fin
Michael Rooker: " Yeah, it's awesome. The fin's not heavy. Not at all. It's hollow and I thought they were going to put lights and different things in it, but they decided not to. They just decided to keep it 'natural' and not, well… what's natural? It's a fin growing out of my head. So, they didn't put the lights in.
Do you want to know the storyline? I'm not sure if I can say or not… Yeah, a bit because you saw my fin in the last movie. It was a short little stubby thing. That worked for my ship. That's what they told me [LAUGHS] anyway. 'Well, your ship is low and with a regular big fin, you would be hitting the ceiling.' I was like, 'okay.' So, I fell for that. Anyway, this time around, I have a little of both. I have the short fin and this fin here."
Have you teamed up with some of the Guardians of the Galaxy?
Michael Rooker: "They've teamed up with me. Please. I'm the one that can whistle and take out a whole army, okay?"
How did you feel about that shift when you read the second script?
Michael Rooker: "It's a great script. Gunn wrote it, and it's a continuation of Yondu in the first script. He wrote that for me, so he just wrote more odd things that I get to do and stuff because he knows me and knows I'm a wee bit odd. So, he just plays on it and writes some silly things. It's not always silly–but it's fun. It's a lot of fun. I have a good time doing it and he's a good writer. Great director. I was forced to be in this movie…" (Sarcasm.)
Do you hope the audience sees a different side?
Michael Rooker: "You do see there's some differences from the first one. You don't get too in depth with the first one. We get to learn a bit more about Yondu and stuff. His relationship with Quill, you experience some more cool stuff with Yondu for sure."
How hard is it to get into character?
Michael Rooker: "Na, na, not too hard because it was really written for me, so he uses a lot of my, just some ways I–deal with things. Little bits in there and, physically, it's what I wear, you wear, I think the thing that attracts people and the audiences to this film in the first one. Because the characters are very human-like. So we have our faults. We all think better than we really are–I do. No, definitely. He thinks he's pretty cool."
Does your crew rebel?
Michael Rooker: "…My crew is a very violent and aggressive crew. They're always looking, I'll just put it this way, they always look for a weakness. They're always trying to challenge me in the background and stuff and trying to figure out ways to be me or be the leader and all that kind of stuff. Like any kind of rebel, skull and cross bone group of crazy maniacs. Space motorcycle gang or something. They're loyal… there's loyalty going on, but there's also a lot of rivalry. Almost in everything and that's kind of what the dynamics, that's what's going on. There's rivalry and for me, it goes on all the time because of who Yondu is. He's the leader of this whole ravaging group, so…"
Have you been doing a lot of stunts?
Michael Rooker: "Well, we're all, there's some wire stuff going on, but it's pretty safe. We got these harnesses, the cables are like a quarter… they hold thousands of pounds. I'm not that heavy. But I wire work. If you get tangled up in it, it can not be fun. But we're not doing any real stunts. I don't consider it stunts. It's just part of what… some of the action that we're going to be doing requires wires."
Is that your actual whistle?
Michael Rooker: "Well, it's harder to do with the teeth in, but I can still do it, it's a lot more difficult, so I'm probably going to be doing some ADR in my future, for this whistle. We'll see. It sounds pretty good, but they enhanced the other whistle too. I'm assuming they're going to enhance this whistle–my whistle that I'm using now."
Who is your favorite character besides your own?
Michael Rooker: "I like Rocket. Rocket's got attitude. He reminds me of James Gunn a lot."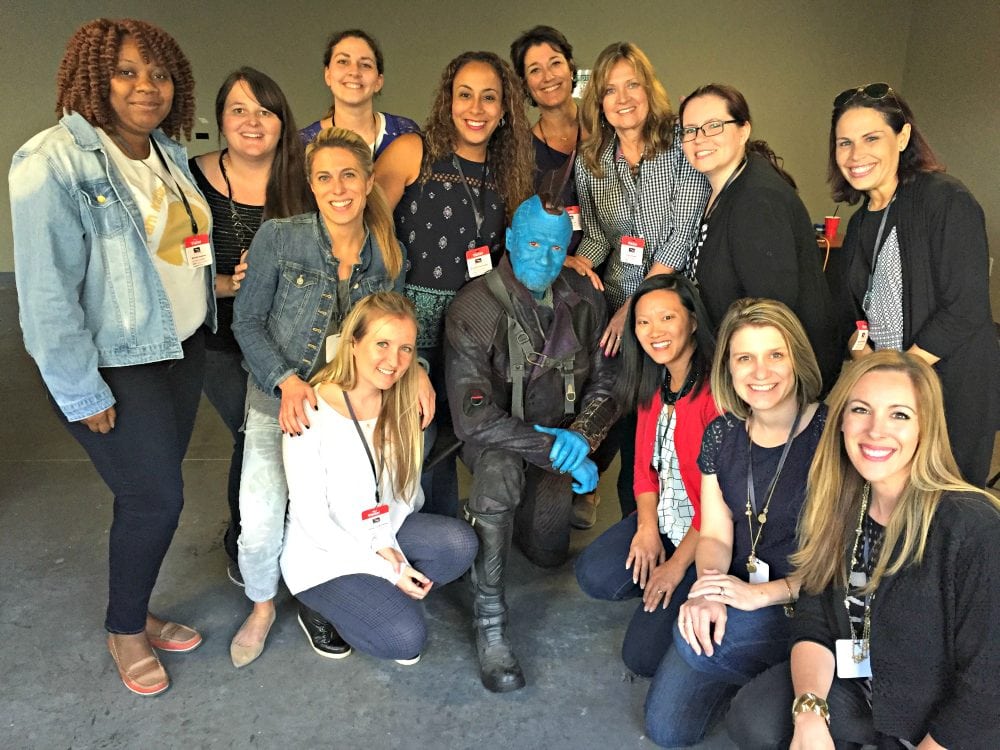 We were out of time for questions because he had to get back on set. But we had time for a quick group photo. He hammed it up and did a couple of different poses with us and demanded that he get a selfie on his own phone.
While taking the photos he kept pointing out all the different little details on his clothing and saying "You can touch it, it's so cool!" Seriously, it was like being with my son when he was little on Halloween. He was so impressed with all the new tiny details they've added or changed to his look. I love his childlike passion. This man is a ball to hang out with.
For more Micheal Rooker, read this post from Walker Stalker Con! 
Guardians of the Galaxy Vol. 2 is in theaters May 5th!