Halloween is coming quickly and so many stores are bringing out fun costumes, decorations, and candy. I have always loved Mike and Ike, and I was happy to partner with them to let you know about their fun Halloween packaging and products just in time to hand out for Halloween.
Mike and Ike Halloween Editions
Mike and Ike broke up a while back, and now to continue the celebration of their reunion they have released two Halloween-themed editions of Mike and Ike. The Mummy's Mix and Vampire Variety are perfect for trick-or-treaters and come in snack-sized bags for you to hand out or to enjoy on your own. If you're planning to enjoy them on your own, let me suggest the larger theater box variety! The Mummy's Mix contains the Lemon, Orange, Grape, and Raspberry flavors and the Vampire Variety includes Cherry, Raspberry, Grape, Watermelon, and Fruit Punch. I am a HUGE fan of the Vampire Variety with all the red and pink flavors!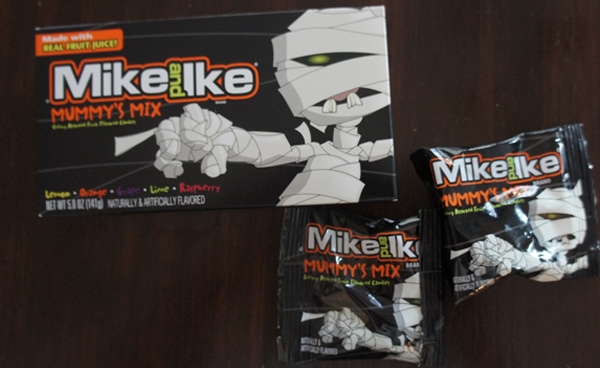 I am excited to hand out candy this Halloween – I love that Mike and Ike's are fat-free and gluten-free and have real fruit juice in them.
Since Mike and Ike split up and came back together – Just Born, their parent company, has released so many fun things on their website and through social media. From the break-up they were able to learn more about their love for music and video production. You can see some of their fun collaborations on the site (they are actually pretty fun to watch!). They are often running contests and promotions for Mike & Ike, they have games and downloads on their website. You can even send an e-card! I love when brands are on board with their products – they make it more than just candy, and it is so much fun!
Find these fun Halloween treats at a store near you!