Chances to entertain have been plentiful in the last couple of weeks. My husband and I have traveled to see family, had family here, and just about any other mixture of friends and family you can think of. An easy way to dress up your entertaining is with Milton's gourmet crackers. I received a pack of their entire gourmet line in exchange for my review.
Milton's Gourmet Crackers
The gourmet crackers from Milton's are made with the same whole grains that are found in the specialty breads from Milton's and compliment a variety of toppings. The crackers come in five flavors including the Original Multi-Grain, Everything Multi-Grain (like an everything bagel), Roasted Garlic and Herb Multi-Grain, Whole Wheat Sesame, and Crispy Sea Salt (my favorite!). Milton's Gourmet Crackers are made with all natural ingredients, no preservatives, and no high fructose corn syrup.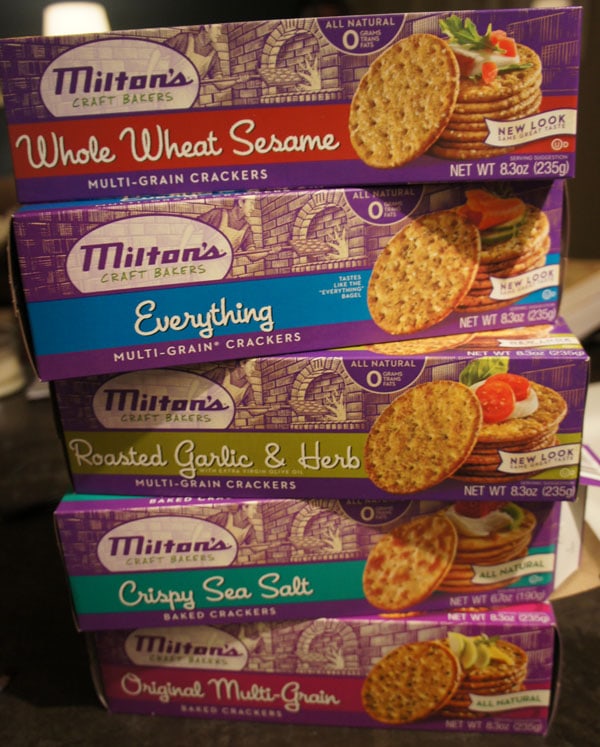 This Christmas, we were happy to pull out the Everything Multi-Grain and the Roasted Garlic and Herb Multi-Grain crackers paired with a couple different kinds of spreadable cheese and slices of summer sausage. The crackers' unique flavors went over well with our family and friends and were quickly finished off. For something more gourmet than cheese and crackers, make sure to visit the Milton's Baking website for recipes like the Smoked Salmon and Cucumber Bagel Snacks or the Tomato and Pesto Gourmet Cracker Plate – both with less than 10 minutes prep time.
If you need tips on entertaining, check out their Entertaining page full of tips, recipes, and more to help make entertaining easier. Even if we are past the holidays, there are still plenty of chances for entertaining friends and family (example, a very large football game coming in a few weeks) – so make sure to have some on hand! You can use the store locator at MiltonsBaking.com to find out where to buy Milton's crackers near you.