Notice: Mother's Day is coming! Are you ready?! I was so excited to receive a beautiful set of earrings from Blue Nile for a review; it is the perfect gift for my mom on Mother's Day.
Mother's Day Gift Idea from Blue Nile
Blue Nile has a wonderful variety of jewelry, from engagement rings to gifts for friends, family – and of course mom! Known for their engagement rings, Blue Nile makes it easy to customize a ring; you can start with a setting or a diamond and go from there. They are the largest online diamond retailer, and they offer the largest selection of diamonds. Blue Nile has a 30 day return policy – so you can be sure that you (or the recipient) love the item you purchased, and there are customer reviews on almost every item, so you can see what others thought before you "take the plunge."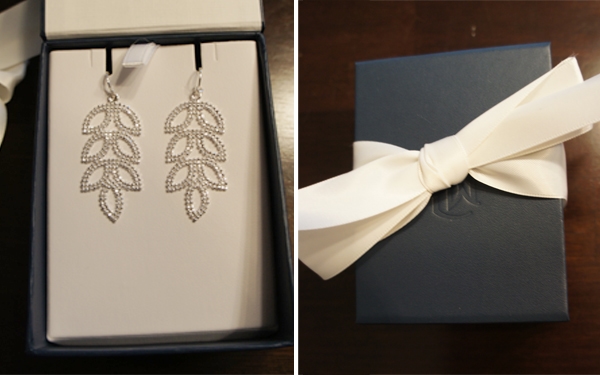 The pair of earrings I received are a beautiful leaf chandelier style, in sterling silver. I really appreciate that on the website, you can see the size of what you are ordering (it can be HARD buying jewelry online without this!). The earrings came in a cute little box with a big bow, I love that they are gift ready right away (I am kind of lazy about gift wrap sometimes). The earrings are lightweight and have a flexible design that makes them move easily, which can be a concern with larger dangly earrings. I was also excited that their design makes them look especially sparkly (more than I could see online). Since they are sterling silver, you can dress them up, but with the extra sparkle, you can use them to dress up an evening out too! Again, the reviews were very helpful – with 190 reviews of this item, I was able to see a good overview of what people thought of their purchase.
You can find the Leaf Chandelier Earrings at Blue Nile for $40 (as of right now they are on sale for $30!)– one lucky Sweep Tight reader can win a pair of these for themselves to help celebrate Mother's Day – or maybe a great gift for a friend!