Motorola Elite Sliver Bluetooth Headset
I just received the Motorola Elite Sliver Bluetooth Headset and am very impressed. Like all Motorola products, the Elite Sliver is well packaged. Inside you will find a wall charger for micro USB (which can also be used to charge your phone), an assortment of extra ear pieces in various sizes, user manual, charging container and most importantly, The Sliver. Product was received for review purposes and this post may contain affiliate links.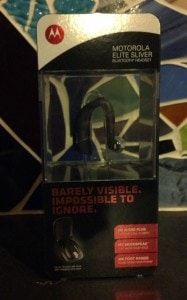 This device has HD audio, which is unbelievably clear. After making a few phone calls, I received nothing but positive feedback. The Sliver also includes many noise cancelling features, creating a crystal clear environment.
Other great features include:
Separation– the ability to separate from your phone up to 300 feet
My MotoSpeak™– A free Android app; allowing you to send and receive text messages by voice.
Charge On the Go– Once your charging container has a full battery–indicated by a green light–you can disconnect it and charge your Sliver an additional two times in its case without using the wall charger.
There were, however, a couple disappointments. Most importantly, when I placed the Elite Sliver into its charging container I had to hold the piece down to get it to charge. As soon as I let off pressure, it would stop charging. After a few days of use it does seem to be getting better. My only guess is maybe it's a manufacturing problem, or just a fluke with this particular unit.
The device is also equipped with Near Field Communications (NFC) technology. To pair it with your phone, simply tap the two devices together and you are ready to go. The only problem is, Motorola's newest phone the Razr, does not have the NFC chip in it. This is not a huge deal, but rather a disappointment. It renders such a great feature useless.
All in all, the Sliver is a great product. I would highly recommend it.