When it comes to baby gear, we have a lot of it. In the first few months, there were quite a few that little dude quickly grew out of. The Bumbo floor seat was one of my favorites, but little dude didn't fit very long because of his chubby thighs! Recently, I was contacted by Bumbo about a new product they have created – the Bumbo Multi Seat. I was so excited to receive one of their new Multi Seats in exchange for my honest review, all opinions are my own.
The New Multi-Use Bumbo Multi Seat
My first question was: will he fit? The answer: YES! The Bumbo Multi Seat has a different shape, so he fits – and should he get any bigger, you can remove the foam cushion for even more room. The multi seat is created to work for kids from 5 months to 3 years. But what makes it multi seat? The MANY different ways to use it. You can use it like the original Bumbo Floor Seat – on the floor to make baby sturdier as he or she learns to sit up.
The Multi Seat comes with a tray that stores on the back of the seat, making snack time easy. When your little one gets old enough, you can move the floor seat up to the table and use it as a booster. Adjustable straps on the Multi Seat allow you to attach it to just about any size 4 legged chair (my only complaint, it doesn't get tight enough around the back of my chairs, but I was able to maneuver the straps in a way to make them work).
Whether in use on the floor or a chair, the wide stable base keeps it safe, and the soft removable foam insert can be removed to make room for growing children. The removable foam seat fits in the bottom of the chair, and the retractable straps click into the side – making this useful chair seem quite ingenious no matter how you are using it.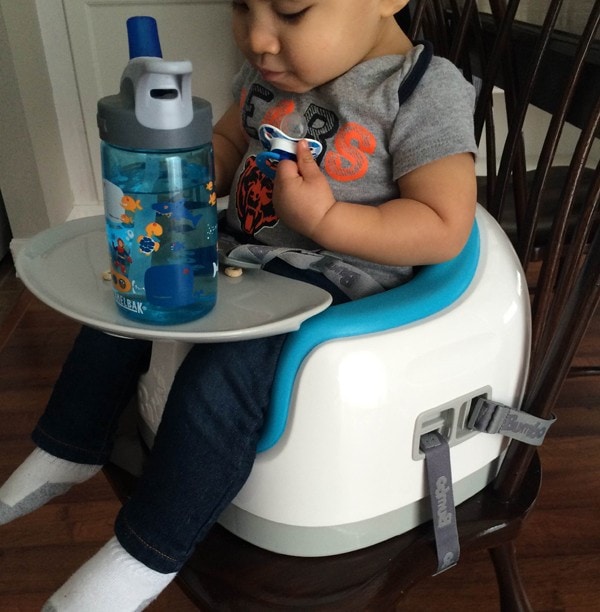 We love this new seat (although it was a bit sad to see how much my baby, who is quickly turning into a toddler, loved it!). I am excited that even when little dude grows out of the booster, we can convert it back into a baby seat for any more little ones to come along.
You can find the new Bumbo Multi Seat at Target and Target.com.