I often worry about how I am going to teach my kids about having a good strong work ethic. My dad started working for his dad when he was just 8 years old and has been a workaholic since. I don't really want to teach that extreme, but a good healthy balance of working smart/hard while enjoying life. Product was received for review purposes and this post may contain affiliate links.
Well, that's all quite deep for a 6 and 10 year old. They are more concerned with what's on TV, snacks, friends, playing and most recently (for my ten-year-old son) phone calls!
I've tried using a typical job chart and/or a chore chart before but nothing compares to the My Job Chart site. It is so organized and family friendly that my kids seriously can't wait to get their stuff done! And the best part is, IT'S FREE!!! It gets the kids online, which is so important now days, that they are accustomed to doing this regularly and safely.
They both respond really well to the reward system. I have set it up so the points they earn for their daily chores can be saved up for a variety of things, activities, privileges, or new toys! Now, Amazon.com has partnered with this site so it is even easier to show the kids how they can earn new toys! The more expensive the toy, the more points needed. They are learning how to save and budget and they don't even know it!
The thought of my kids and responsibility used to, frankly, freak me out. Now, thanks to My Job Chart, I am feeling much more at ease. They are now self motivated to be in charge of their daily tasks. I cannot tell you how peaceful our mornings are now! They used to consist of me barking orders at everyone. Now, the kids are even up before me making their beds sometimes!
Here is a screenshot of how I set up some of their custom rewards (Boop is my son Adam's nickname, and Squeeze is my daughter, Chesney's nickname lol):  This is so easy and fun!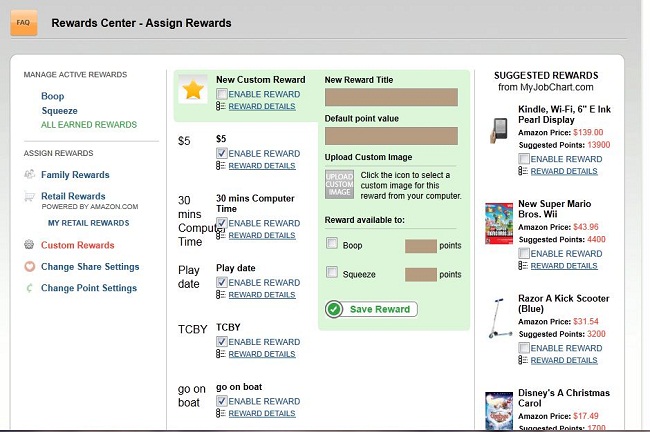 I used to have such a hard time with my kids and reading. Now it is a breeze! I assigned a small amount of points to the amount of reading the school requires and then made a huge bonus point area for any additional reading! It's been a miracle! They actually want to turn off the TV and pick up a book!
Another topic I am tossing around is kids and allowance… I never really had an allowance when I was kid. If I wanted something in particular, I worked for it. I got my first job at 14, and basically never looked back. I don't know that I want to have my kids carrying cash around as I don't want them getting picked on. I feel like soon this is going to be a big deal with my son but I have a few years with my daughter before she starts asking. So far, he is content with the point system and he is allowed to trade them in for cash, but hasn't wanted to do that yet… So, I guess we will cross that bridge when we come to it–and if my prediction is correct, it won't even be a big issue because My Job Chart will have conditioned him to be smart with his money already anyway!