I am willing to bet that my son smells better than yours. Unless, of course, yours also uses Old Spice. Adam has been using the entire line of Old Spice products and he smells fantastic. I don't know many people that can say that about a 13-year-old athletic boy! This review and giveaway was made possible by Double Duty Divas and Old Spice. I was compensated for my participation in this campaign, but all opinions are 100% mine.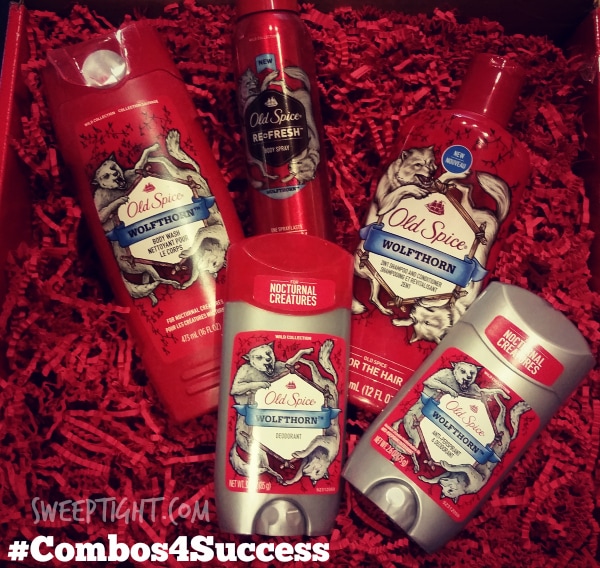 I said it… My son smells better!
Let's face it, once those hormones kick into gear, your athletic boy turns into a sticky man! Thanks to Old Spice–and a huge shout out to Isaiah Mustafa (the "Old Spice Guy")–Adam is now a very good smelling dude. He's been using the Old Spice scent Wolfhorn and it's honestly the best smelling stuff I have ever been around. My mom is one of those super-sniffers and even she loves it. He uses the 2-in-1 Shampoo and Conditioner, the body wash and the deodorant. It leaves him with just enough scent for the whole day. It's not overpowering at all and gets him through physical education at school and then 2 hours of Taekwondo in the evening!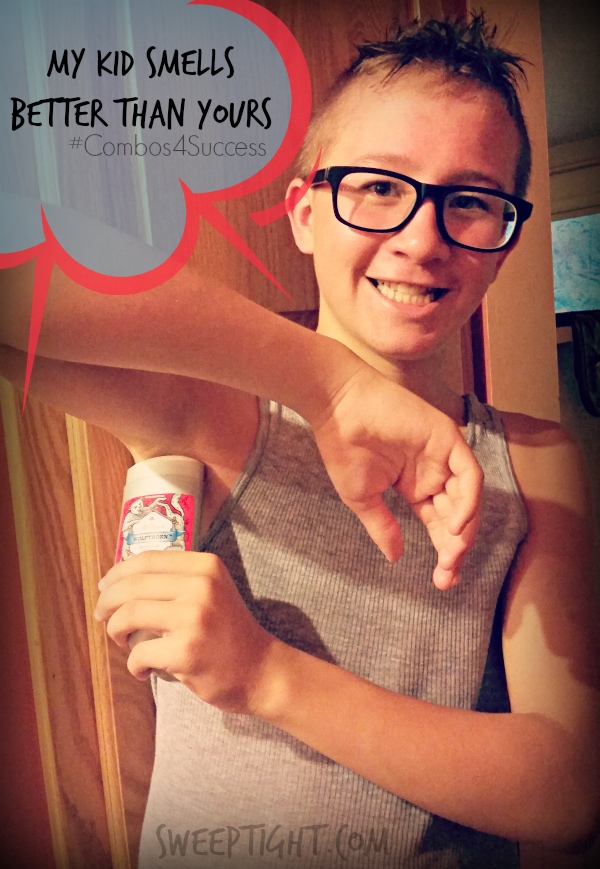 When we interviewed Isaiah Mustafa, he said his favorite Old Spice scent is Hawkridge. I just bought some for Adam, and WOW. I didn't think anything could smell better than Wolfhorn but Hawkridge may be the new favorite. Although that's arguable. Ben is a die hard Wolfhorn fan.
Whichever your favorite, using Old Spice products for your hair and body creates irresistible freshness from head to toe.
I love this infographic about combinations. I have a couple that I live by too. For example, bananas always have to have peanut butter on them. Fall weather has to involve pumpkin spice edible things, and slouchy scarves/sweaters. Leather seats must be heated. Blanket forts must always involve coloring once their built to satisfaction… and all crayons must always be sharpened. 🙂

The Mandroid
The Old Spice Mandroid is hilarious. Check him out!
Coupon!!!
Follow Old Spice on Facebook. Twitter and Instagram too!
WIN SOME!!!
One lucky winner will receive an Old Spice Wolfhorn Head to Toes Prize Pack!
Some things are just better together! The manliest men's grooming brand on the planet is back to inform guys that when they use Old Spice antiperspirant/deodorant, body wash and shampoo together, the result is a manly, amazing, irresistible freshness from head to toes.

Your man has clearly already fallen for you (does this look familiar?!) To celebrate great combinations, he can now get stocked up with Old Spice Wolfhorn PLUS a delicious pile of meat to grill up for your next romantic dinner. Win-Win for both you and him!