This post is brought to you by Spiegel. Although compensation was received, all opinions are my own. Spiegel has several fall trends that have caught my eye. Each one inspires a different look for various occasions.
I love "window shopping" online. I even like to add things to my cart that I don't intend to purchase. For some reason that act in itself feels like retail therapy. I especially enjoy exploring new trends in fashion. Even if I don't end up wearing them all, it's fun to keep up with the latest looks.
My Top 5 Favorite Fall Trends from Spiegel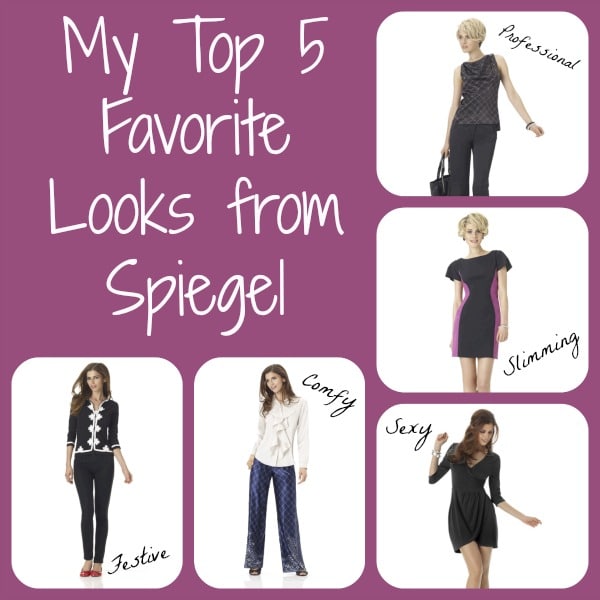 While browsing Spiegel.com, I found something in each of the categories that I like to keep stocked in my closet. Us ladies have to be prepared for anything, you know!
Slimming – For those days where you have to dress up, but you are feeling a little puffy, it's important to have something that will be flattering and give a slimming illusion. The color-block panels on the side of the Chloe dress by Shape FX is super flattering. It gives that hourglass figure appearance. It's even made with a contouring and lifting fabric for extra help with shaping.
Sexy –  I just adore the Rachel Tunic by Shape FX. It's so feminine and fun. This is another figure-flattering wrap dress that can be worn alone as a dress, or add some cute leggings underneath. Switch up your shoes and accessories to make this dress work for any party, girls' night out, date night, etc.
Comfy – The Evelyn Blouse looks very comfortable, and yet, sophisticated. And, those pants – really? I don't think you could get any comfier!
Professional – Pair the Deco Top with a some black pants for a great office look. This top is great for under a blazer, or keep it casual without. It's even cute enough to head out after work with the girls.
Festive – See ya later ugly Christmas sweaters. I am totally digging the Lillian Cardigan from Newport News. It's cute, flirty, and still festive enough to look great for any holiday party. It's also not too Christmas-y and can be worn all season.
Each one of these items can be found on Spiegel.com. I don't know why I had a previous misconception that Spiegel was super pricey, either, because they are quite affordable! This time I can actually fill up my shopping cart and purchase! 😉
Do you like to shop at Spiegel? What is your favorite look?