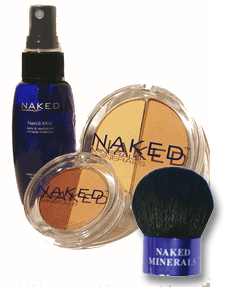 Naked Minerals Starter Kit
KIT INCLUDES:
One Full-Sized 10.5 g Mineral Foundation Duo (Retail: $34.95)
One 3.4 g Naked Bronzer Duo (Retail: $18.95)
One 2 oz. Neroli Mist (Retail: $26.95)
One Kabuki Brush (Retail $29.95)
Retail Value $110.80 You save over $35!!
Naked Minerals is healthy for your skin with none of the following:
NO Mineral Oil
NO FD&C coloring
NO parabens
NO perfume
NO fillers or binders
NO vegetable dyes
NO petroleum products
NO Animal testing
All my life I have been plagued with greasy skin. Well, for as long as I can remember at least! Because of this I have always been obsessed with powder to try and absorb the oiliness. This can backfire big time! Looking back in a lot of pictures I look like I am wearing a mask.
Now that I am older my skin has calmed down some, but I am still oily. I am now very aware of my previous misuse of powder and try and avoid the cakey look.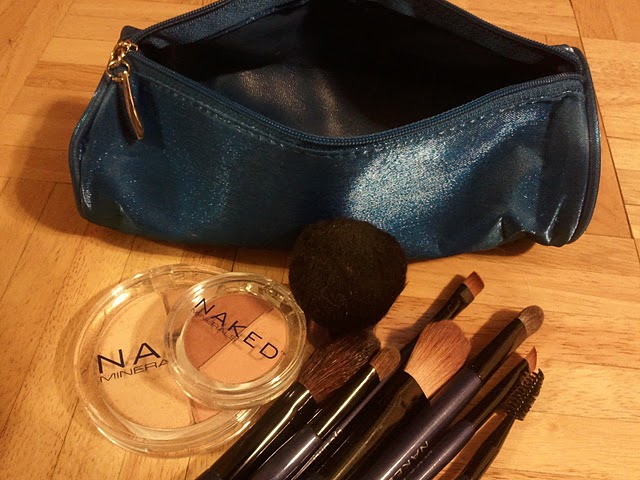 The first thing I realized when trying the Naked Minerals foundation is that you do not need a lot at all. Just lightly swirl the Kabuki brush into the pressed powder, tap off the excess and apply. A little bit goes a long way. I love that there are two shades in the compact. That way you can adjust the color slightly by using more of one side or the other. That will be great once I have a little tan. For now, since it's winter, I am thankful for the bronzer. That is helpful in giving me a healthy glow.
The assortment of brushes included in the set made the application even easier! Overall, my experience with this makeup was very pleasant. I wore it for most of the day with it feeling light and natural on my face. Knowing that it contains pure ingredients makes me feel even better about it.