It is summertime, and you should be relaxing (maybe) in a nice Adirondack chair or a hammock – sipping on your iced tea – and reading a great book. National Iced Tea day is coming on June 10, you can ready yourself with Rooibee Red Iced Tea (I bet that is one holiday you haven't thought to celebrate!). Tea has a ton of health benefits, and it is fun to enjoy iced tea as the weather warms up. I received a variety the Rooibee Red Iced Tea for sampling last week to help me celebrate National Iced Tea Day. I might have already started sampling – but only to make sure I could tell you it is as refreshing as promised – and it is!
Rooibee Red Tea – Celebrate National Iced Tea Day
Rooibee Red Tea is the only bottled organic red tea made from the South African rooibos bush. Rooibee Red Tea is certified organic, a great source of antioxidants, and naturally caffeine and gluten free. They have five unique flavors: Watermelon Mint, Peach, Unsweetened, Cranberry Pomegranate, and Vanilla Chai. Rooibee Red Tea is a verified Women's Business Enterprise, and has a great Communi-tea of supporters.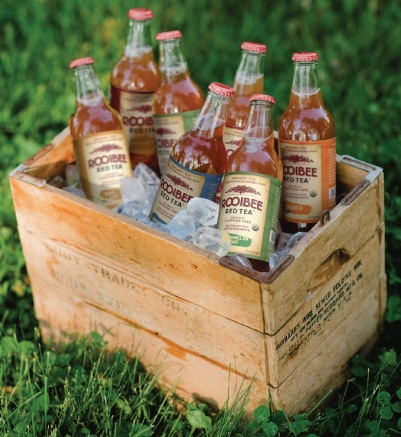 I loved the unique flavors they have – my favorites were the Vanilla Chai and Watermelon Mint. Since it is gluten and caffeine free – I don't have to worry about staying up all night after enjoying it (or… the gluten things… which are ickier). I love that it is certified organic, there are less than 10 ingredients in any of the flavors of tea. Sometimes if you grab bottled iced tea at the store – they throw in some artificial tasting lemon and it ruins the whole flavor – when I opened up the bottled iced tea from Rooibee Red Tea, it didn't have the left over taste of "bottled fake" that I had gotten from other iced teas in the grocery store.
You can find Rooibee Red Tea at a ton of different retailers, but I was able to find it at Whole Foods and Mariano's, check out their website for more information!
Do you like iced tea? Did you know about National Iced Tea Day?