Native Remedies SkinSave Anti-Aging line
Native Remedies is a company that focuses on a natural approach to wellness. They work hard to create the most effective natural remedies with the least side effects. Their newest skin care release is the SkinSave anti-aging line. Each of the products consist of 100% natural ingredients formulated to help fight the signs of aging. Product was received for review purposes and this post may contain affiliate links.
I was lucky enough to get to try some of the products out. Here are my thoughts on each one: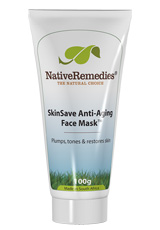 SkinSave Anti-Aging Face Mask:  Restores luster and evens skin tone for a youthful, rejuvenated appearance, plus prevents the visible signs of aging. $34.95
I could feel the natural clay in this mask and it's oil-absorbing properties. My skin was left feeling cleaner and my pores felt smaller. Definitely a great mask to add to any skin care plan.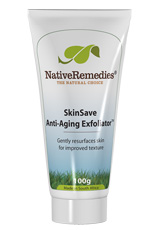 SkinSave Anti-Aging Exfoliator:  Gently exfoliates dead skin cells and promotes new skin cell generation for a softer, more youthful appearance. $43.95
I like to exfoliate at least once a week. I found this one to be gentle, yet effective with a light medicinal scent. My skin felt more awake and very fresh afterward. I noticed a lot less flakiness, too. They suggest using it twice a week and I will feel comfortable doing that since this one is so gentle.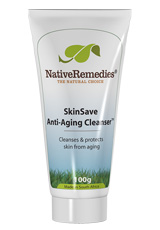 SkinSave Anti-Aging Cleanser:  Provides gentle and effective cleansing, plus protects against environmental damage for softer, younger looking skin. $43.95
I like the way this cleanser feels as I am washing my face with it. However, it is not my favorite. There is something about the way my skin feels after I rinse that I don't particularly like. It almost feels like it didn't all rinse away. As long as I use the exfoliator afterwards, it's okay. But by itself, I am not the biggest fan.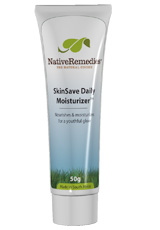 SkinSave Moisturizer:  Promotes nourished, youthful and vibrant skin, plus discourages the visible signs of aging. $34.95
This is a light and quick-absorbing moisturizer that I like a lot. It feels very nourishing to my skin without feeling too heavy or greasy. My face appears brighter and healthier after using it. There is no scent to irritate my skin either.
Overall, my face likes all of these all natural products. I would consider this a good skin care line to try if you are looking for some new anti-aging products.