At our house, we are big fans of Nature Valley granola bars. Recently, Nature Valley reached out to let me know about their new Soft-Baked Oatmeal bars, and I am excited to let you know more about their other new products coming soon! I received a sampling of their new soft-baked bars in exchange for my honest opinion about the new product.
Nature Valley Soft Baked Bars
These new bars that are made with 100% natural whole grain oats and come with Cinnamon Brown Sugar and Peanut Butter. While the Nature Valley granola bars are pretty crunchy, these soft baked bars are chewy a great on-the-go breakfast.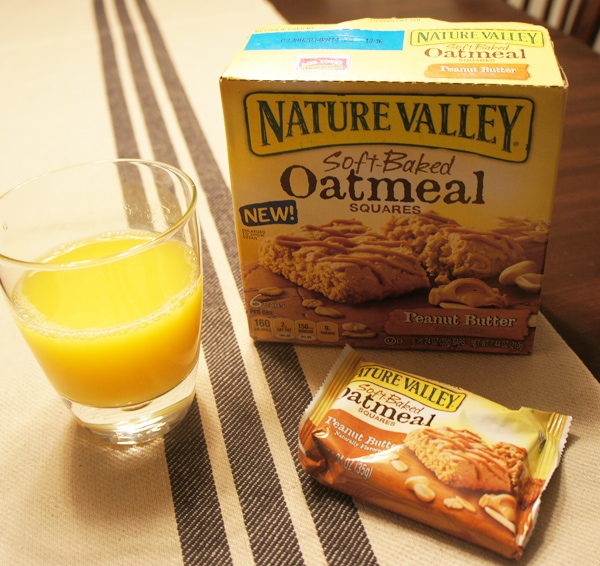 Nature Valley Protein Granola
Nature Valley is also introducing new protein granola and they provided some great ideas for using this granola to make some yummy breakfast and snack options! It comes in Oats 'n Dark Chocolate and Oats 'n Honey. While I usually just throw some granola in with my yogurt for a crunch, their idea for Crunchy Granola French Toast is just whole wheat bread coated in an egg mixture and dipped in the Nature Valley Oats 'n Honey Protein Granola before cooking. They also suggested a Chocolate and Toasted Coconut Yogurt Bowl that features Nature Valley Oats 'n Chocolate Protein Granola, toasted coconut, Yoplait Greek coconut yogurt and fresh fruit, such as blueberries or blackberries. Last but not least, the White Chocolate Banana Granola Pops (um, YUM!) using half a banana on a wooden craft stick, covered in creamy peanut butter and dipped in white chocolate; topped with Nature Valley Oats 'n Honey Protein Granola.
Make sure you look for these new Soft Baked Bars and the Protein Granola in your local grocery store. You can find more information about Nature Valley and their product offerings at NatureValley.com or find them on Facebook (but most of their Facebook posts suggest you get out into Nature, so you could do that too!)
What is your favorite Nature Valley product?