Newman's Own Organics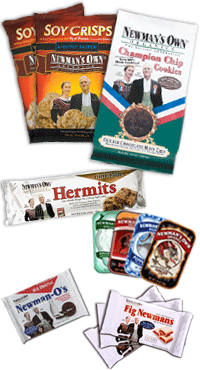 I grew up on Newman's Own spaghetti sauce. That is the only sauce my Grandmother would use. It is now the only sauce I use. I had tried Newman's Own Organics before, but wasn't completely sure of the connection. Turns out that it was created by Paul Newman's daughter. Well, the apple doesn't fall too far from the tree, because this is a delicious line of products just like her father's!
I was able to try a large assortment of Newman's Own Organics. Mike and I both enjoyed every single product, but here are four that we particularly liked the most. They are also the four products that will be awarded to the winner of the Earth Day Giveaway…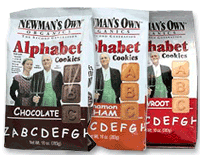 Alphabet Cookies (Cinnamon Graham flavor) ~ These were my favorite! I ate the whole bag in just a few days. They are just the perfect amount of sweetness for me. They remind me a little of animal crackers, but with more of a graham taste. Nothing better than a cup of tea along with some of these delicious treats. Since they contain no cholesterol or trans-fatty acids, I feel a lot less guilty about plowing through the bag so quickly!

  Signature Series Chocolate Bars ~ Oh chocolate…how I love thee. Seriously, I worship chocolate! It is possible to get a chocolate bar that is not so great, though. Definitely not the case here. These bars are heavenly. Made with premium organic cocoa beans, this is truly a decadent treat. Rich, smooth, creamy and flavor to die for!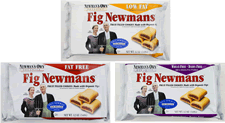 Fig Newmans ~  In all honesty I never even got to try these. Mike snatched them away immediately and devoured the whole package! I am completely fine with that. He does a lot of snacking and I think these make a healthier choice than a lot of other things. Fig Newman's have definitely earned a permanent spot on the grocery list now!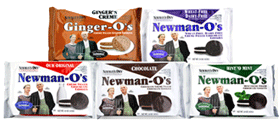 Newman-O's ~ Another fantastic item in the cookie line! Just when I think it can't get any better, we tried these tasty treats. These cookies are free of partially hydrogenated oils and trans fats. I like to think of them as "healthy cookies" to justify the mass quantities that I have consumed!
I do not have a bad thing to say about these products. Every one was just as yummy as the next. Proving that organic products are just as good – if not better – than similar items that are made with harmful ingredients. I have already been a fan of organic foods, but Mike is the true tester. He is always skeptical of organic foods and thinks they may not be as good. Trying all of Newman's Own products has turned around his thinking. He enjoyed them all just as much as I did. I am very happy to now know how great these products are!