As a proud member of the CrowdTap community, a friend and I were able to try Old Navy dresses and keep our favorites.
Old Navy Dresses – Thank you CrowdTap
Dresses are tricky. If they're not flattering, they are your worst enemy. Comfort is also a huge factor because, lets face it, if you only look good while sucking in and standing in one position, you are not going to be able to have fun. Plus, no one likes to watch you fidget all night.
So, Vickie and I got to work trying on dresses–and wow it really is a workout!
Here are the ones that didn't work for our body types: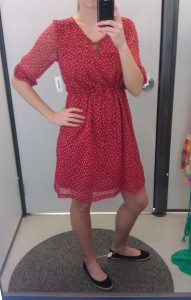 And here are the winners:
Old Navy has an enormous selection of new dresses on display and online. Be sure to head over there and get yourself something for spring and summer! The prices are incredible and with so many to choose from, you'll be sure to find one (or more) that is perfect for you!