Old Orchard Very Cherre
Recently I have been trying to keep more juice in the house. Personally I am a water drinker, but Mike is a recovering pop addict. I think it's much better if he chooses juice instead. We were sent some bottles of the new 100% tart cherry juice from Old Orchard. Product was received for review purposes and this post may contain affiliate links.
Old Orchard Very Cherre blends have a variety of health benefits. Cherry juice has even been discussed by Dr. Oz, who calls it the ultimate antioxidant for fighting heart disease. It is also a natural anti-inflammatory, and has even been reported to aid in sleep due to the naturally-occuring melatonin. None of these claims are being made by Old Orchard, but it sounds like a beneficial drink to me!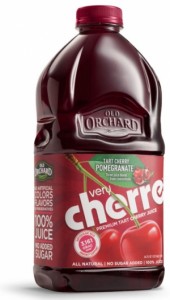 Some more facts about Very Cherre:
100% juice that is all natural.
Free of artificial colors, flavors and preservatives.
High in antioxidants.
No added sugars.
Gluten Free.
Comes in four flavors – Tart Cherry, Tart Cherry Blueberry, Tart Cherry Cranberry and Tart Cherry Pomegranate.
Can be found in the refrigerated dairy section of Walmart stores for $4.99 per bottle.
As for the taste, these juices are TART as the name implies. Mike and I found them a little too tart at first, so we diluted them with just a little bit of water and they were much better. They are definitely tasty! I even enjoy adding just a few drops to my plain water for a tiny kick. Also, this would be an ideal juice to use as a cocktail mixer! A little vodka in these babies would be delicious! Hmmm… I just gave myself an idea for New Year's Eve tonight! 😉