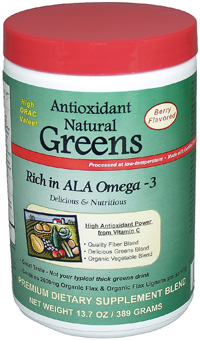 Tropical Traditions Antioxidant Omega 3 Greens
Smoothies are a big favorite around here. I have even gone through several smoothie machines and blenders because I use them so often. There is just nothing better on a hot summer day. They are nutritious and can be low calorie if you make them carefully. Whenever I want to drop a few pounds, I incorporate some yummy smoothies into my diet.
For my smoothies, I always use frozen fruit. Sometimes I buy it fresh and cut it up and freeze it. Or sometimes I just buy frozen fruit. This way you get the icy texture, but it's not watered down by ice cubes. I also use fruit juice as the liquid and sometimes add in some creamy Greek yogurt. All of this is healthy, but I like to add in an even bigger boost and toss in some antioxidant powder.
Tropical Traditions Antioxidant Omega 3 Greens comes in mint and berry flavors. Since my intention is to make fruit smoothies, I chose the berry. I imagine the mint would be excellent in milkshakes. Hmmm. Next time! So, just as I suspected – the berry is a delicious addition to any variation of my fruit smoothie concoctions. I feel fantastic after drinking this for breakfast. You can also just mix this powder with water if you want, too. Either way it's a tasty way to get yourself some extremely valuable nutrients!
Rainbow Crumbs for You
Weekly newsletter with our latest posts and shenanigans.