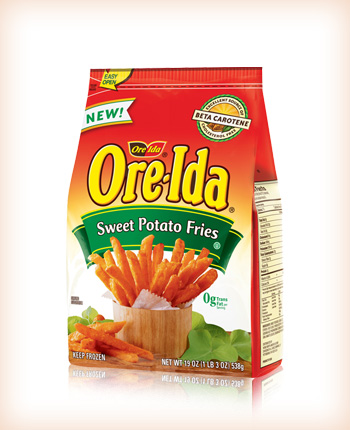 What could possibly be better than feeding your family a cholesterol and gluten free snack that is packed with nutrients and is made from veggies? AND, they're fries?! Product was received for review purposes and this post may contain affiliate links.
I have to be honest… I don't like sweet potatoes!!! But I went into this mission with a fresh and unbiased palate.
After preparing these and trying them on their own, I have to say, they're DELICIOUS! I think my original opinion on sweet potatoes was formed at an early age from having to eat them at holiday meals. I've found that as I've aged, my tastes have as  well… So, that explains why I like them… But the real test… do the kids think they're as yummy as I do?
As soon as the pan was cool, I couldn't keep the fries on it!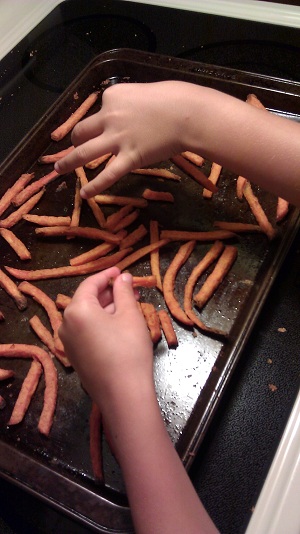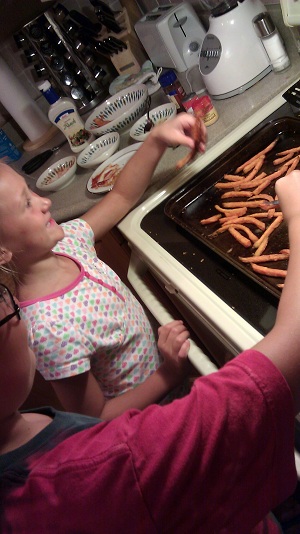 We tried several different experiments with ingredients I had in my kitchen to come up with a great and flavorful recipe including these Ore-Ida Sweet Potato Fries by Heinz.
After all the votes… our favorite is…
Sweet Garlicky Greek Fries  (the name may need work…)
Ingedients:
Ore-Ida Sweet Potato Fries by Heinz
Fat Free Greek Yogurt
Garlic Gold Italian Herb Nuggets
Prepare Ore-Ida Sweet Potato Fries by Heinz by placing desired amount on baking sheet. Bake in 400° oven for 22-28 minutes. Meanwhile mix garlic herb nuggets into the Greek yogurt. (I found that a ratio of about 1 tablespoon seasoning to 1 cup yogurt gave it the right flavor–but this can be adjusted to your liking.)  As soon as the fries are good and crisp, dip and enjoy!
The best part about this is the Greek yogurt is a super healthy snack high in protein and active cultures, the herbs and spices only have about 4 calories per serving, and your dipping a baked (not fried) veggie into it! It's a healthy snack that tastes like a guilty indulgence!