School is in full swing, and your best intentions of providing healthy snacks for your kids' snack times might be getting a little lazy (ok, so it would be getting lazy if it were for me, and I don't even have kids yet!). I just learned about SunRidge Farms, a maker of natural and organic snacks. After receiving a sampling of their products, I am happy to tell you more about them!
Organic Snacking with SunRidge Farms
On-the-go snacking does not always lend to balanced snacking. Luckily, SunRidge Farms has fun snacks that taste great! Their natural and organic snack offerings include trail mix, dried fruits, and seeds in easy single-serve portions. These convenient, all-natural snacks come in packages that are just the right size (one ounce) for a quick snack time. They include a variety of organic and all-natural nuts, dried fruit, and candies. Their organic Sunny Bears provide 70% of the recommended daily value of Vitamin C – so they are awesome to have around during cold season (isn't that just about every season when kids are in school?).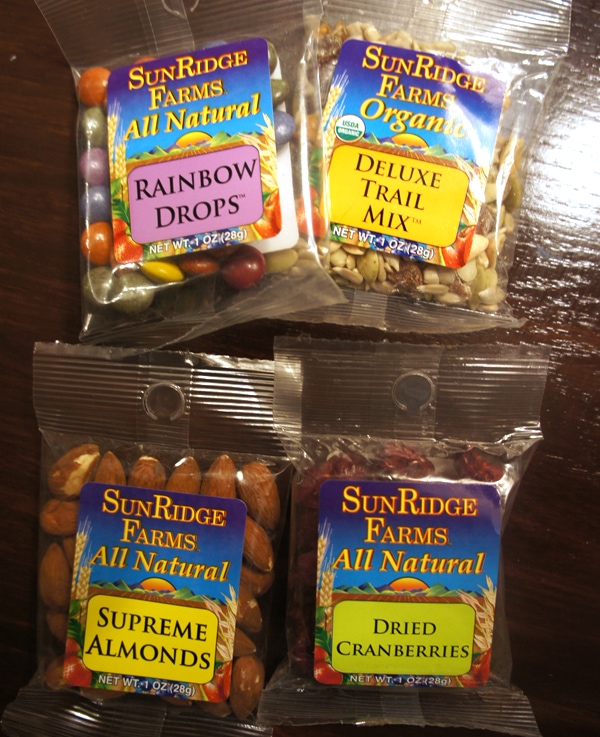 At our house, even with no kids, these are great snacks to have around. It's easy to throw them in my purse and have them when I'm "on the go" and need a little snack. My hubby has found that he loves the dried cranberries mixed with trail mix – so, of course, he has to have two of the one serving packs, but I have to admit, it is a pretty great mix. The Chocolate Rainbow Drops (like M&M's – but better) are non-GMO, have no titanium dioxide, and are naturally colored.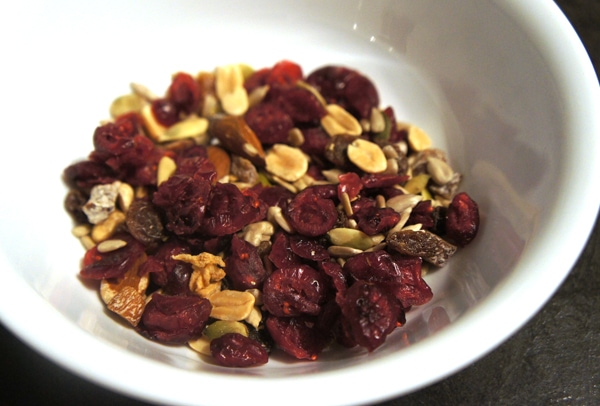 As a company, SunRidge Farms is great for the environment. All of their products are produced in their solar-powered manufacturing facility. For more information on their products, check out their website SunRidgeFarms.com.
Which SunRidge Farms snacks look best to you?