Installing an Oxygenics PowerMassage Shower System is a quick and easy way to spruce up your shower! The days seem to keep getting too long with too much to do in our new house, but with many easy things that can be done in the bathroom to make a big impact – I was excited to tackle the master bath. Product received for review. Post contains affiliate links.
Eventually, we are planning to change out the sink faucet, the light fixture, and the towel bars along with new paint and a new shower head – the room should be looking like a whole new place in no time!
If you are looking for a way to update your bath, do NOT be afraid of changing out the shower head, it is EASY. Oxygenics provided this really cool shower head for me to try out. It has one stationary head and one that can come off as a handled shower head. At the top of the fixture, you can turn off and on either of the heads so you don't have to have both going at the same time and both of the heads have their own massage settings.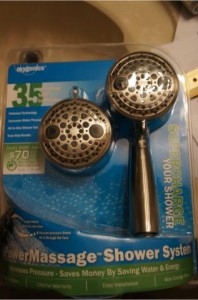 Installing the Oxygenics PowerMassage Shower System
To install, you just take off the old shower head (I used an adjustable wrench), run the water for a few seconds to clean out whatever might be in there. Our old shower head was cool looking, but when you turned it on – water went all over the place, out of maybe 3 of the holes in the actual head, around the edges, out the back, ah!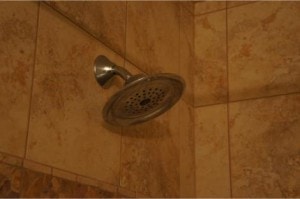 Then you use the Teflon tape (some was provided with the new shower head), wrap it around the exposed end where the shower head was. Then screw on the new shower head. DONE. I think this project took me about 10 minutes tops, and I feel like it is a whole new shower (and it looks cleaner too).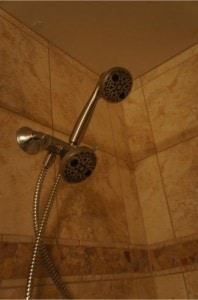 If you are looking for a quick way to update your bathroom OR a way to save some money on bills, a new shower head from Oxygenics might just be a solution. Many of the shower heads from Oxygenics are water saving, have MANY different massage positions, and have updated finishes. Visit Oxygenics.com to find out what shower head might be a good fit for your home.