PB2 – Powdered Peanut Butter
Powdered peanut butter doesn't sound like it would be something to really rave about. To me it sounded like one of those diet things that everyone says is great, and then you try it and realize these people must be near starving to think that tastes good. But, I have to say, this is the best peanut butter EVER. Product was received for review purposes and this post may contain affiliate links.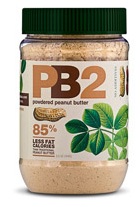 I'm a peanut butter fanatic. I put it on apples, celery, crackers, sandwiches, in my ice cream, smoothies, frozen yogurt and just lick it right off the spoon. I've always tried to limit my intake, though, knowing how calorie heavy and fattening it is. Well, thanks to PB2, I can be as slovenly as I want and not feel the slightest bit guilty!
With 85% less fat and calories than traditional peanut butter and being all natural, this stuff is still nutritious and just incredible. All you have to do is add water to the powder! If you like creamier peanut butter, add more water; thicker, don't add as much. It's so simple it's almost too good to be true. But all they've done is pressed the fat and oil out of the peanuts! So there are no additives or fake chemicals. Just peanuts! I'd never know the difference between this and regular peanut butter. Plus, it's super easy to add to any recipe! The kids and I made chocolate-peanut-butter-banana pudding—YUM. We also invented protein bites for before or after a workout!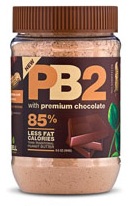 The makers of PB2 also created these scrumptious little crackers. To me, they are much more cookie-like but totally yummy either way. We ate the whole bag on the first day. We dipped them in our pudding concoction and the rest went into the kids' lunch boxes. (Okay, okay, mine too.)