PMD Personal Microderm At-Home Microdermabrasion System

Seen on The Doctors! Watch the video.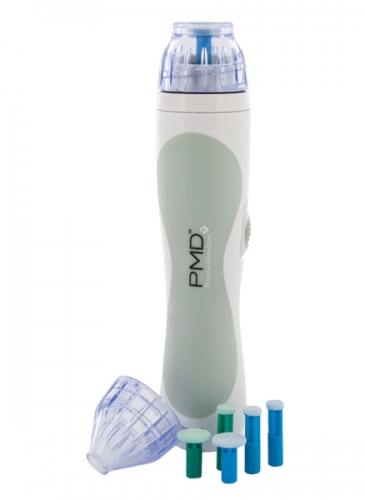 Back when I used to have more of a disposable income to spoil myself, I used to get frequent facials at a salon. One time the owner gave me a free microdermabrasion treatment so I could see how I liked it. Well, at $125 a treatment, I never followed through on purchasing a package. Just from that one freebie I noticed benefits, though. Ever since then I have been wanting more!
Due to my ongoing skin issues, I have a lot of scarring and uneven areas. I also notice when I wash my face that I can feel small bumps on my cheeks. Just overall grossness if you ask me!
When my PMD arrived, I was thrilled to see an instructional DVD included. No way did I want to just wing it on this one! The DVD is only about 8 minutes long and it is extremely informative. After watching I was quite confident and ready to give it a try.
After washing and drying my face thoroughly, I got started. It takes a few minutes to get the motion down pat. Because of the suction factor, it's hard to smoothly glide the machine across your skin. I kept getting stuck in one place for longer than I wanted. But, I eventually got the hang of it more and was able to become more fluid with it. Each time you go over a section, it leaves a little path so you can see where you have been. This is beneficial so you don't keep going over the same spot, but it's also a little scary to see. This is a powerful little sucker let me tell you!
My first time I was a little afraid. After I was done my face felt kind of raw. I was nervous to see what would happen. However, that feeling did not last long and the next day I was extremely pleased! When I washed my face, there was not the bumpy feeling (that I had described above) anymore! It was like I was cleaning a smooth surface. I was so happy about that. Also, my appearance seemed brighter and more even. I swear I think my pores even looked smaller.
Another area on my body that I did right away was my chest. I have gotten sunburned numerous times in my life on my chest. It is showing significant sun damage and skins of aging. It depresses me! So, I gave it a once-over with my PMD. Once again I was getting stuck because of the suction and actually gave myself a couple hickeys. My chest was red until the next day. Seriously – HUGE difference the next day! All the redness was gone and my chest was so much smoother! This is just after one treatment. Unbelievable.
Needless to say, I am madly in love with this machine. After getting used to it, it's really quite simple to use. The results are amazing. Using the PMD felt just like the microdermabrasion treatment I had received in the salon. No way will I ever think about paying that much money to do something that I can do in my own home. I love having the control over it, too! I can do it once a week on my whole body if I want to!
As long as this home micro dermabrasion unit is taken care of properly, the only upkeep this machine will require is purchasing new pads after they wear down. They are not expensive, so that is great, too. I am so extremely excited to continue to see amazing results after each use!