In the fifth Pirates of the Caribbean movie, the adventure, action, and comedy are just as fantastic as in the first four. My kids are 15 and 12–they've grown up with these films, and their reactions in the theater were hysterical. Belly laughs, smiles, even a tear or two, Pirates of the Caribbean: Dead Men Tell No Tales did not disappoint. I found some fun facts to share and a great activity packet for youngsters. We were able to screen the film. All thoughts and opinions are my own.
Pirates of the Caribbean: Dead Men Tell No Tales
No one nails adventure and comedy like the team on these Pirates movies. They all have the most clever and exciting fight sequences, the funniest delivery of script, and superb special effects.
The scene that cracked us up the most was when Captain Jack Sparrow was in the guillotine. FUN FACT: In this scene, the two heads detached from their former owners' bodies were modeled after directors Joachim Rønning and Espen Sandberg.
FUN FACT: On the day of the spinning guillotine "gag," several inches of rain fell on the St. Martin set. To keep the ground dry for shooting, the grounds crew moved 30 tons of sand in.
Black Pearl in a Bottle
Silent Mary Ghost Ship Playset
Treasure Map Leather Journal
FUN FACT: There were 88 versions of Carina Smyth's cherished diary before the one used in the film was finally settled upon. The covers are leather-bound, and aging on the pages was done by dousing them in coffee.
FUN FACT: The sea witch, Shansa's costume took 15 hours a day for a week to create just one of them, with 42 people working on it.
FUN FACT: Javier Bardem's (Captain Salazar) makeup took two to three hours each day, and Golshifteh Farahani's (the sea witch, Shansa) required four to five hours.
FUN FACT: Javier Bardem's makeup took up to three hours each day! #PiratesLife
Click To Tweet
FUN FACT: To properly age the wardrobe, Penny Rose and her team used a variety of innovative techniques, including putting them along with pebbles in a cement mixer, using cheese graters to wear them down and, occasionally, taking blowtorches to the materials as well!
Pirates of the Caribbean Activity Packet
If you're looking for fun activities for your pirate-obsessed kids, click the image below to download a PDF full of fun things to do.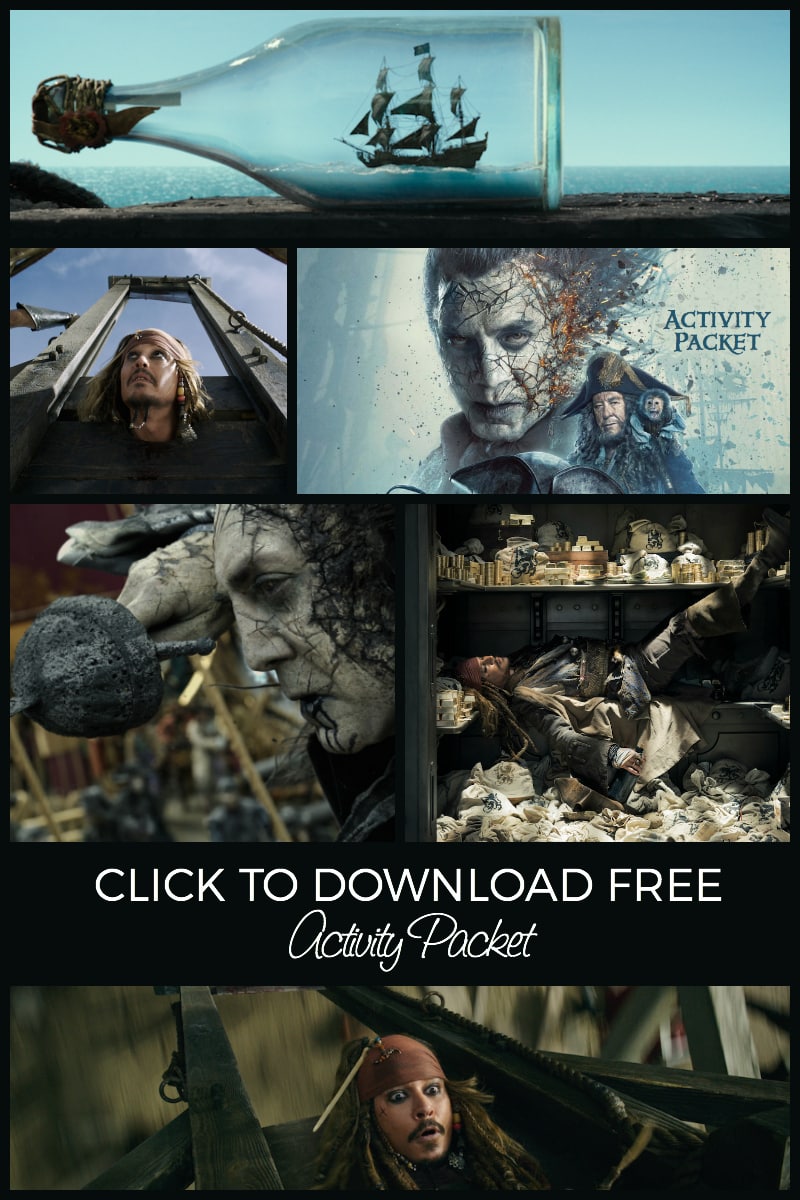 See the Movie!
Pirates of the Caribbean: Dead Men Tell No Tales is in theaters NOW! Get your tickets on Fandango.com!
Check out this 2017 List of Disney Movies
 PIRATES OF THE CARIBBEAN: DEAD MEN TELL NO TALES
Follow on Twitter
Like on Facebook
Follow on Instagram