Pack of 4 Stainless Steel Solar-Powered Path Lights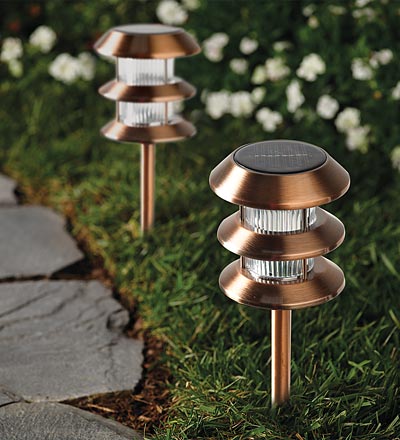 While browsing the Plow + Hearth website, I was absolutely overwhelmed with the amazing product selection. So many unique and fabulous items for the home, garden, yard and outdoor living area. We have been slowly but surely improving our yard over the last few years. This year my husband decided he was going to build a pond/fountain/structure type of thing. Product was received for review purposes and this post may contain affiliate links.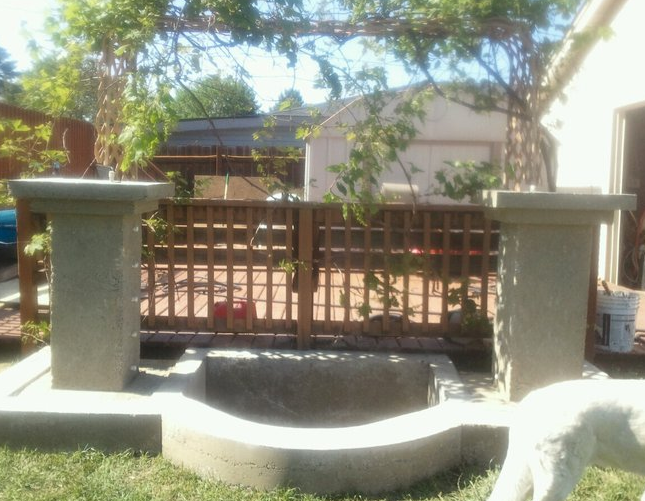 It is not finished yet, but it's pretty darn cool if you ask me! Once it's complete, the posts will shoot water back and forth, too – if I understand correctly. Anyway, I thought these Stainless Steel Solar-Powered Path Lights would look great around this new addition! We can sit in the yard at night and enjoy the nicely illuminated fountain without wasting more electricity.
I found these lights to be easy to use. I love that they come with two rechargeable batteries instead of one. Usually with something like this, I hand it right over to Mike to set up. But, I was able to handle it all on my own. The instructions are simple and they are even easy to push into the ground. Then it's up to the sun to do it's job! Once they have been in the sun for at least 8 hours, you can expect to start seeing the light come dusk. We really like them and plan to get some more for around the pool. I also appreciate not having to take the dog out into a pitch black yard at night!
The copper finish makes these lights attractive day or night. We are happy to have them accessorizing our backyard! I am sure we will return to PlowHearth.com for additional backyard improvements very soon!