After a recent trip to the dermatologist, I was told that I have very visible "hormone skin." So all those spots, that I thought were age spots are actually because of my hormones! Phew. I thought I was aging at an extremely accelerated rate. I guess because I am on birth control, any exposure to the sun will cause these discolorations. She recommended microdermabrasion or possibly a chemical peel; and to never leave the house without sunscreen on my skin. So, when I got the opportunity to review the PMD Personal Microderm kit, I was ecstatic! Product was received for review purposes and this post may contain affiliate links.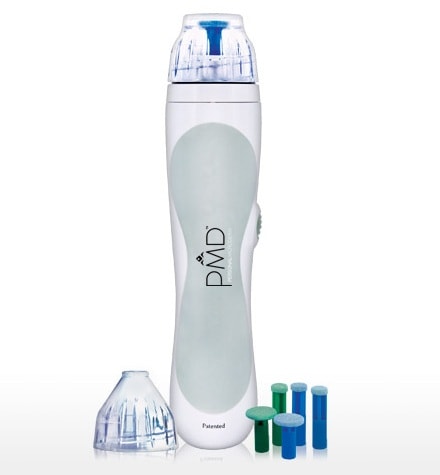 PMD – Personal Microderm Kit
This product is now my new obsession. The PMD Personal Microderm kit comes with an instructional DVD which you have to watch before using the product. After watching it, my good friend, Vickie, and I couldn't wait to use it. Here is a video of our first experience. It was hard not to laugh because you end up making a lot of funny facial expressions while using the PMD.
It takes some getting used to at first, but once you get the hang of it and determine which disks are best for your skin type, the process is fast and easy. My skin has never felt so smooth and soft. Literally like a baby's butt! Plus, I am already beginning to see all those nasty hormone spots fading. I plan on using this once a week for about a month to really get the results I want. But, I've been told that after that, once or twice a month for maintenance is all I will need to keep my face looking and feeling so great. It's amazing to finally have figured out how to get rid of dark spots on my skin.
Makes a great gift!
The PMD Microderm kit is an awesome gift idea for women and men. They even make a model specifically for men in black with disks made for "man" skin. It helps with enlarged pores, ingrown hairs, and rough skin.
Who would you buy the PMD Personal Microderm Kit for?