I am so thrilled to have this opportunity to share our potty training tips as part of this sponsored campaign from Huggies Pull-Ups. A good friend and classmate of mine has three little monsters, oops, I mean kids… She is about to start potty training her youngest, Mya. While sitting in our lengthy night classes, we've discussed her concerns and predicted set backs. Having already potty trained two kids, we feel like we know what to expect. Hopefully we can make it a smooth transition with minimal accidents.
Potty Training Fears
Due to overly packed schedules, potty training a little one can be a nightmare. I think it may actually be easier to train your first child than your last. By the time your youngest is ready, you're busy running the older kids from event to event. Carting around a potty trainee can really add to the stress.
What happens when we have an accident and I am no where near a bathroom?
What if my child hates the idea of giving up diapers?
If I wait too long to train my child, will she be scarred for life?
Or, what if I start to early? Will my child be too traumatized to try again later?
How will I ever fit training into my busy schedule?
Potty Training Tips
Have no fear! With support from family, friends and brands like Huggies, potty training has never been more fun and achievable.
I think it is key to remember that accidents happen. Just pay attention to your child and communicate constantly. I pushed my son into training way too early and he turned out fine. It was a messy situation for a while but we made it. I believe positive reinforcement is key. Give small goals like a trip to the park or a backyard picnic for successful trips to the bathroom.
As for your busy schedule, there comes a point where you just have to make training a priority for a while. However, Pull-Ups can help both you and your child for those hectic moments where panic can take over. Pull-Ups allow a bit of insurance while forming new big-kid habits.
Just remember, take your time. Enjoy watching your child learn and achieve their goals. Potty training can be a fun adventure for both parent and child.
When these Huggies Pull-Ups arrived, we let Mya play with them as if a new toy had been delivered. She had a ton of fun dressing her baby in them and studying the characters on each one. Mom's nickname for Mya is 'Monster.' These new Monsters University themed Pull-Ups couldn't be more perfect for her!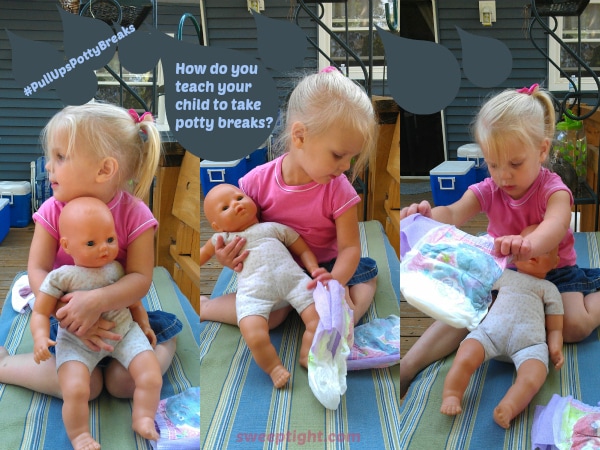 While she was playing we discussed the importance of potty breaks. As she was getting ready to take her baby on a car ride, we suggested that they should both probably take a potty break before hitting the road.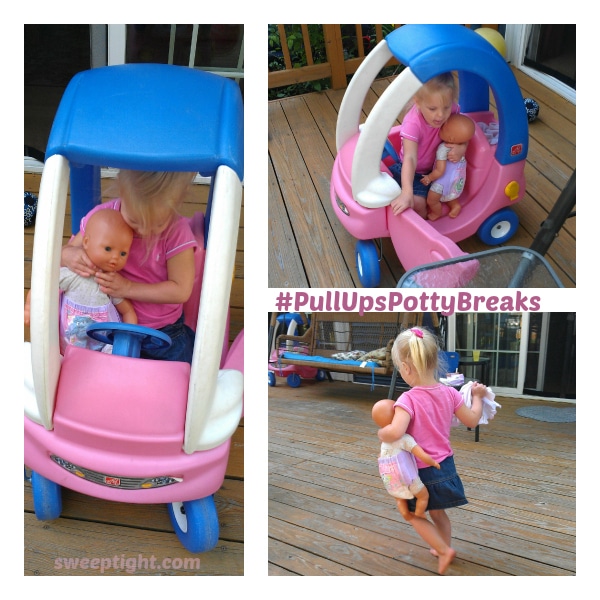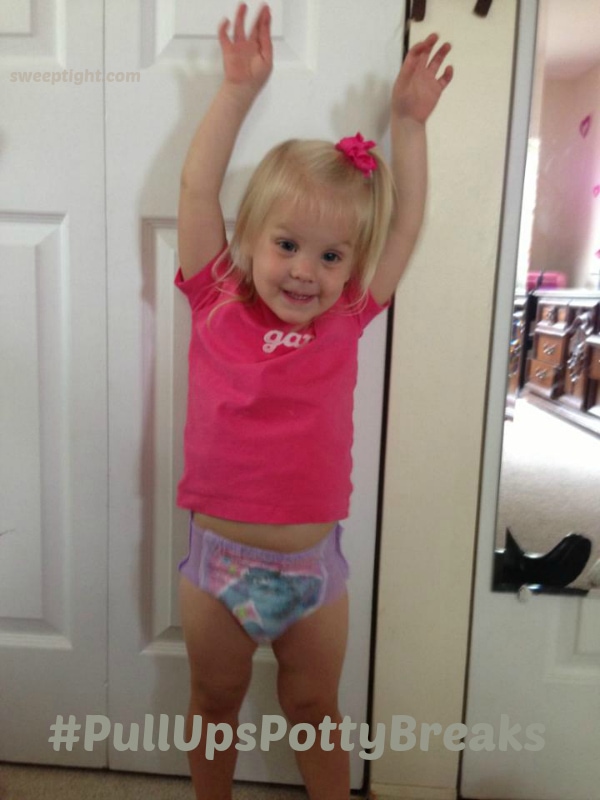 And we are on our way… No doubt to a brilliantly imagined road trip AND being totally potty trained!
Pull-Ups helps take the scare out of potty training by making it fun and easy with new Monsters U character training pants! You can help make potty training easier by staying consistent and using rituals like the potty break. Make it a game and ask your toddler, "What does a little monster take?"…"A Potty Break!"
Visit Pull-Ups.com and "like" Pull-Ups on Facebook for more potty training tips and resources.