Dry skin is already upon us in this household. Sure, it's October and fall is here, but that's no reason for Mike and I to have creepy, scaly skin. Save that for the zombies. This post is sponsored by Lunchbox, but all opinions are my own.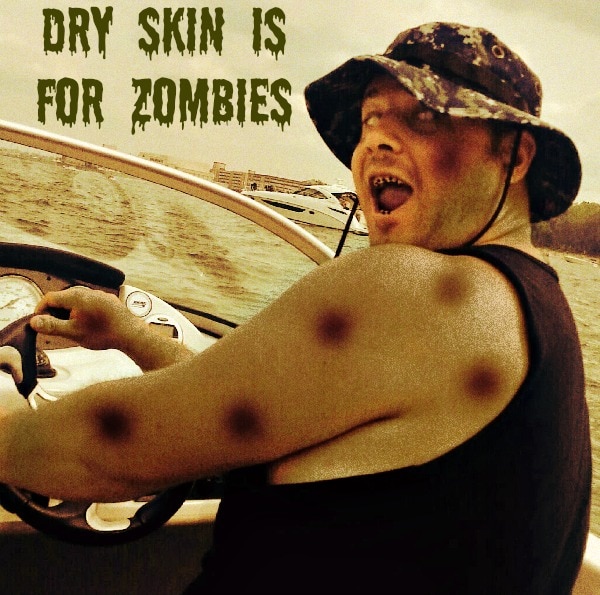 To make my point I have zombified my husband. He will love it. 😉
Prevent Dry Skin this Fall with Dove Men+Care
Why should women be the only ones with smooth skin? Mike loves my smooth skin, but sometimes hugging him is like hugging a tube of sandpaper. Not cool! Dove Men+Care® is not a soap. It's a body wash for men. Which means his dry skin can take a hike and we can finally both have soft smooth skin.
Even though it's still early fall, he's already noticing his red, dry skin patches making their appearance. It's time to be proactive and use products that help protect his skin during the colder months.
Dove Men+Care® products are made with advanced formulas designed to clean and protect men's skin and hair. Make sure to call your local Walgreens to see which great Dove Men+Care® products they have in stock.
Savings
Buy any 2 participating Dove Men+Care® products at Walgreens between 10/12/14–10/18/14 and you'll earn 2,000 balance rewards points! On top of their already-affordable prices, this is a great deal.
This makes for an excellent time to stock up on skin care products for your man. All hard-working men deserve soft skin. October is usually the month that can kick off the rough-skin weather. Get ahead of it with Dove Men+Care® products. No need to save your dry skin for Halloween. They have zombie costumes for that.