This year I turned 30. It is really not a huge deal. I mean it's just a number, right? Well, yeah, except all sorts of strange things are happening to my skin. Age spots, wrinkles, acne, dryness, greasiness. What is going on?! I thought a benefit of aging would at least be less acne. Now I just have acne AND wrinkles. I participated in an Influencer Activation Program on behalf of Influence-Central for Proactiv Plus. I received samples of Proactiv+ to facilitate my review and a thank you item for participating.
Proactiv Plus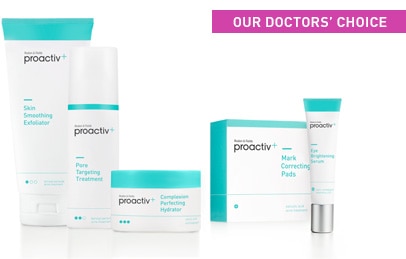 I used to say I have combination skin, meaning I'm somehow oily and dry simultaneously. Now I'm really quite a compilation… oily, dry, zitty and wrinkly. After trying Proactiv+ for 4 weeks, I can finally say I have found a product line that handles the hot mess situation that is my face. These products are seriously the work of a brilliant sorcerer.
Proactiv Plus products are lightweight and effective. My skin isn't overly dry–and it's winter here. I run outside–that's seriously impressive. Yet, somehow, my acne is drying up. The moisturizer is super light and I wear it under my makeup. I swear my makeup is even going on smoother since I started using it!
I apologize for the mugshot in the before shot.
Proactiv+ For All Ages
Proactiv Plus isn't just for aging acne. My thirteen year old son is also a huge fan. He's super active which leads to super sweaty. His biggest problem area right now is his hairline where his Taekwondo sparring helmet rests.
We've basically been fighting over this Proactiv Plus 3-Step system for the last few weeks. We've both seen incredible results. We are going to need a lot of this stuff! I'm thinking this is going to be a great holiday gift this season!
Check out all the great Practiv+ Products here and stock up for the holidays! Follow them on Facebook and Twitter too!