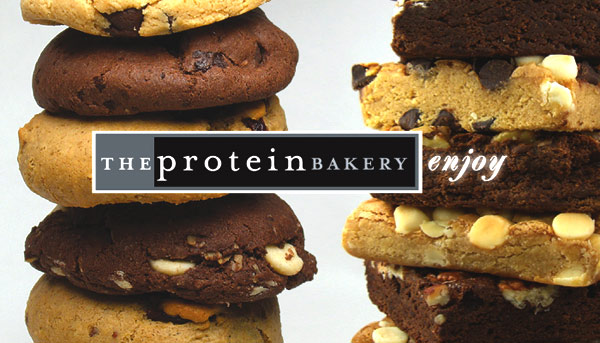 The Protein Bakery
The Protein Bakery has created a wide variety of cookies, brownies and blondies that are not only fantastic, but also healthier for you! The owner, Stephen Lincoln, is a fitness instructor of more than 18 years and has a personal story of weight loss, diet and nutrition. Due to his personal struggle of battling cravings vs. nutrition, he created The Protein Bakery. Now people can maintain physical fitness without sacrificing the treats we all want – and deserve! Product was received for review purposes and this post may contain affiliate links.
Due to the muscle building protein and balanced nutrition packed into these goodies, you can eat one and not suffer from a crazy insulin spike afterwards. They leave you feeling full and satisfied, instead of wired and guilty. They are also high in fiber to leave you feeling fuller. There is no trans fat or preservatives, and also no wheat flour. They are packaged in portion-controlled sizes, but are not teeny tiny! I considered them to be a pretty generous helping!

Personally, I really enjoyed these baked goods. The cookies are soft and full of flavor. I was able to eat a whole one and feel great afterward. No shakiness and I was actually fine with just ONE. Normally, I will go back for several more cookies (or any sweet), but with these one is more than enough. The brownies are big and cake-y. They are packed with delicious ingredients. My absolute favorite was the Espresso Brownie with Cappuccino Chips – WHOA! The flavor is amazing and it also gives you a caffeine boost which I welcome! Another favorite of mine was the Coconut Walnut Dark Chocolate Chip Blondie. You know, I don't think I had ever had a blondie before this – I now love them. This one is truly scrumptious! The dark chocolate and coconut make a great flavor combination.
You can find The Protein Bakery popping up in gyms, fitness centers and smoothie stores across the US. Hopefully they will continue to become available all over. I know I am happy to not have to forbid myself of brownies and cookies anymore!