Pür Minerals 5-Piece NEW Start Now Kit
Ever since I tried mineral makeup a few years ago I have been hooked. I have not turned back since. At first I thought this was my first time trying Pur Minerals, but then I remembered that the last time I had my makeup done they were using the entire Pur Minerals line! That says something right there…The fact that the pros use it is indicator of it's quality. Product was received for review purposes and this post may contain affiliate links.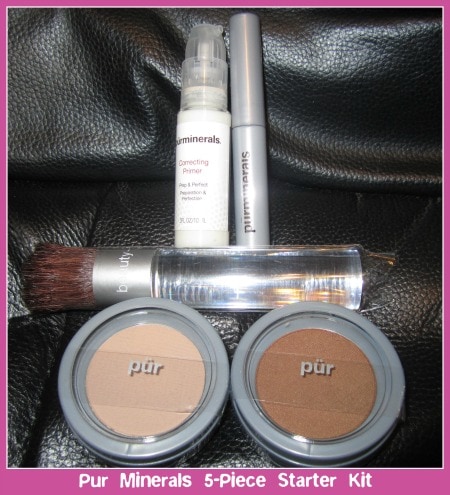 I received the complete 5-piece starter kit to try out. The first thing I noticed was the difference in the brush. With past brands the brush was always bigger, but that was also along with loose powder. The Pur Minerals powder is pressed, so it makes sense to use a different brush. Turns out, I actually prefer this more compact brush. I feel like I have more control over it and love the coverage it provides.
The powder itself leaves a sheer, yet concealing effect on my seriously blemished skin. I am not exaggerating…my skin is awful right now! But, all I have to do is dab a little extra of the powder onto my blemishes and they are covered nicely. All without looking cake-y or mask-like. This is a huge deal to me. Being that I have oily skin and (like I keep saying) lots of flaws, a natural looking coverage is priceless to me.
Allow me to backtrack here to the first step! I can't believe I skipped the correcting primer. This is a sheer lotion-type primer to be applied before the makeup. Let me tell you this is amazing! It really does help to diminish the appearance of large pores and leaves a nice clean slate for makeup application. Without it is truly not the same overall result.
Okay, back to step 3 now which is the mineral glow. I am not a huge fan of blush and rarely use it. I prefer to add a little color with a bronzer. This mineral glow gives just the look that I seek. A sun-kissed, natural glow without looking orange or like I overdid it in the tanning bed. Just a little dab on the cheeks and a quick whisk all over the face and I look healthier and refreshed.


Step 4 is the mascara and it's fantastic, as well. It intensifies my lashes with it's rich color and lengthening and curling effect.
Needless to say, I REALLY love the Pur Minerals line!