When you think of Purina, what do you think of? My immediate thought is dog food, but guess what? They have pet gear products as well! It's great to know that a company with the great reputation that Purina has can not only provide our animals with food, but they go above and beyond that and can provide other great products that we can use in our homes with Purina Pet Gear!
Purina has a Dry Step Challenge going on right now. What's that you ask? They are challenging you to use their training pads for just one week. If they aren't the best you've ever used, Purina will buy you a pack of your usual brand up to a $15 value! You can't lose on this deal! You either find a new product that you love or you get a pack of your old training pads that you would have normally bought. Like Purina on Facebook to take the challenge and to get a coupon!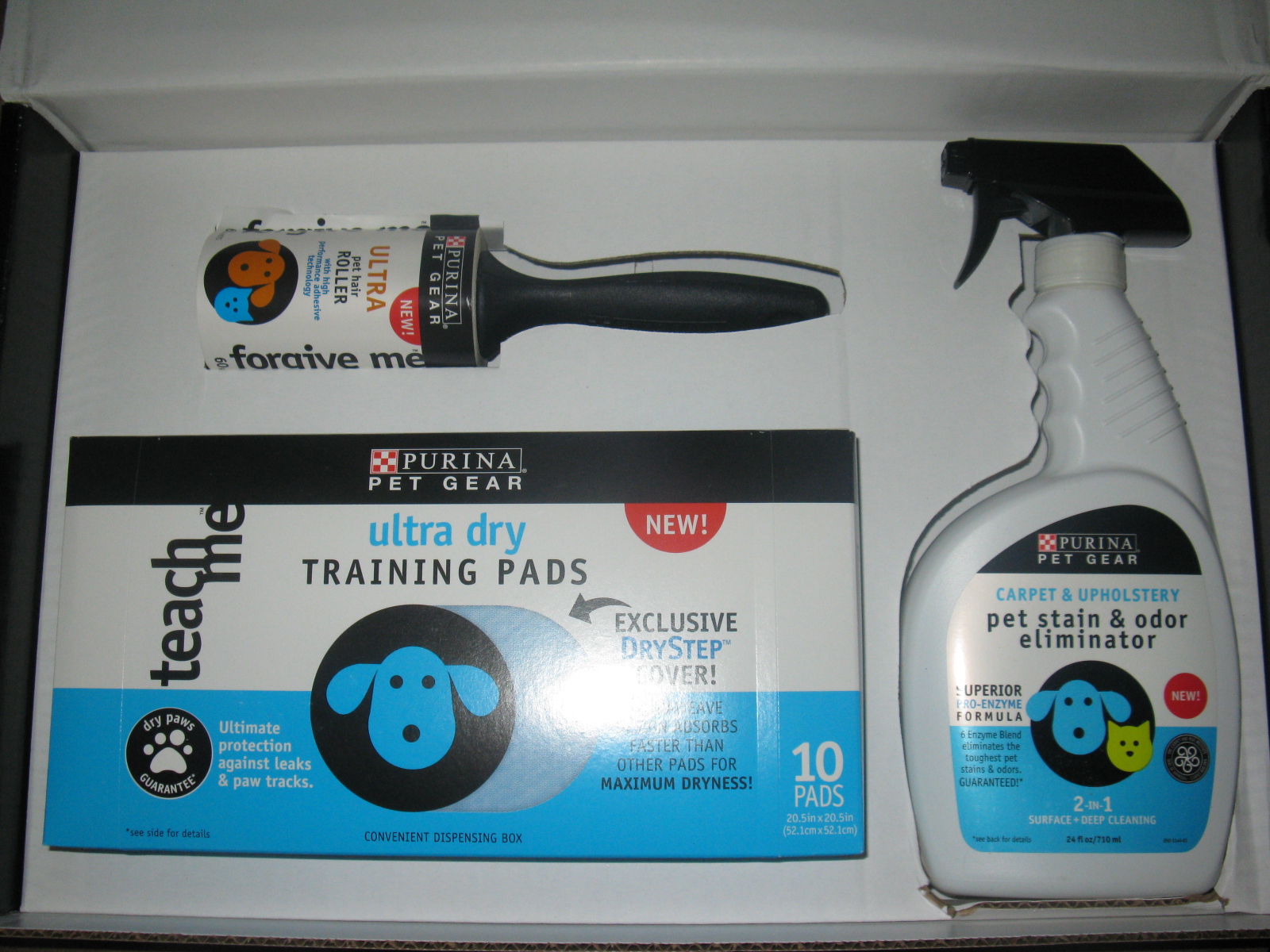 The kit we were sent for review includes their Ultra Dry Training Pads, their Pet Stain & Odor Eliminator and the Pet Hair Roller. We typically use training pads daily for our dog when we are at work because she just can't hold it all day. We switched to these and used them all week and had no problems. She still used them as she used our previous brand. I actually like the look and the feel of the Purina training pads better than the ones we used previously. I am a new fan and will be buying these training pads from here on out. I was really excited to see they have these are our local Walmart and Meijer stores!
The lint brush that was included in the kit is handy!! We have used it a few times this week and have found that it works well! It's also great to have around not only for pet hair but for lint that happens to attach to our black pants…you know that always happens! The pet stain & odor eliminator works for carpet, upholstery, pet beds and any water-safe surface. We recently got new carpet so we have been very careful in making sure our dog doesn't have access to our carpet when we aren't home. We keep her in the kitchen and put her dog bed in there so she can't make a mess on the carpet. She does occasionally get sick on our area rug in our bedroom during the night and the next time that happens I will definitely be using this! I haven't had the chance to use it yet, which I guess is a good thing.
I am excited about Purina's pet gear products and was very happy with the products we were provided to review. I will definitely be checking out more of their pet gear products and I will recommend them to friends! Purina has very generously offered 10 Sweep Tight readers their very own package of training pads!