Can she be any more perfect?! I've often thought of her as the cliche ideal woman–elegant, adorable, sweet, absolutely gorgeous. I was disgustingly right. Rachel McAdams is a perfect human. It gets better. You'd think being in her presence might make you feel less of a woman because of this perfection, but nope. She even makes you feel great because she's so genuine and humble. This Rachel McAdams interview was part of a press junket for DOCTOR STRANGE.
Rachel McAdams Interview
The look on Rachel McAdams' face above is how she responded to us–a group of starstruck bloggers. She made US feel like she was legitimately excited to be there. We, of course, thanked her for being there and she responded with, "Thank you for having me."
After shaking off our googley eye daze, we jumped right into questions…
How is it joining the Marvel Universe?
Rachel McAdams: "Yeah, it was everything I had hoped for and more really. I assumed I would be working with the creme de la creme really and I was. So it was just great to be in such great hands. From costumes to everything was just so well done, so beautifully thought through and well-crafted. They didn't even make me pretend that much with a green screen. That's how considerate they were. They had real things on fishing wires to actually try and scare me. They are very thoughtful people."
Were you a Marvel fan prior to doing the role?
RM: "I didn't read the Doctor Strange comics growing up. I was kind of reading, you know, Judy Blume and stuff like that. But yeah, since I've educated myself–I think they're so different from other comics–which is nice."
What did you do to prepare for your role as a doctor?
RM: "Yeah, I'm a little funny when it comes to blood and guts and stuff like that. But my mom's a nurse so I'd kind of grown up with and around medicine which is probably why I became an actress instead. But I did get to shadow some amazing brain surgeons, a female brain surgeon in Toronto, another surgeon in London–and then we had a surgeon onset every day. He taught me to do sutures and was practicing on raw turkey breasts. That was interesting. Oranges–that was a little easier to take in my purse so I could practice wherever I went. But, yeah, I read this really great book called, Do No Harm, by Henry Marsh who is a world-famous brain surgeon… It was a phenomenal book and really eye-opening when it comes to being your own advocate when it comes to your health… It gave me some good insight into things, questions to ask if I was ever in that position. I got to learn a lot. One of the doctors offered to take me up in the Evac helicopter for the weekend. So cool right?! But I'm terrified of flying. And I have a weak stomach. So I was like, 'I actually think for the sake of everyone I should decline this really generous offer.' So, I didn't, unfortunately, get over my fear and do that."
Do worry, Rachel McAdams. We forgive you. ♥
Onset, what was it like to be in scrubs with everyone else all in superhero stuff?
RM: "I loved it. So comfortable, I got to wear like orthopedic running shoes everyday… you know, the older you get the harder it is to wear them… So I was really grateful for that. I was a little jealous of the levitation cloak, but I was happy to be comfortable."
Did you ever put the cloak on?
RM: "No, you couldn't touch that thing! Sacred cloak. No, I just got to look at it."
How do you prepare to get genuinely startled?
RM: "Well, that's a good question. You hope they get it on the first one because that is usually startling–the first time. And you just kind of fake it the rest of the time. But they were very helpful. I was never quite sure where the startling was coming from, the sounds were coming from… I'm also a total scaredy-cat in real life. So it's not a far stretch for me."
Your character is so intensely emotional in the film. Is there a special memory or place you draw on for that emotion for this character?
RM: "Oh, good question. I do think having a mother as a nurse who's a very kind of compass–she's so compassionate and she really unfortunately would take her work home with her sometimes. I think Christine's more that kind of character. So I think I kind of grew up with that a little bit and have great admiration for people who do that for a living and who are real empaths. I suppose I drew on–from my mom a bit. She did IV therapy. If she would miss someone's vein, she beat herself up so bad. I guess it was a little bit personal that way. But also, you know Benedict is such an extraordinary actor that you just have to be present with him and it all kind of falls into place. I mean, we did a lot of crying together. We cried one day for eight hours straight, every single take. And I've never been able to do that before. You know, it comes, it goes, it comes back again. But with him, I mean he's so emotionally available and present that I'd look at him and I'd start crying. He'd look at me… it was just like water works all day long. We both had these incredible headaches at the end of the day. I was like, 'we're dehydrated you know.' I really have to give kudos to him for that."
How did you go about getting this role? And what was your reaction when you found out?
RM: "Oh, I was just over the moon. I met with Scott and he was just so incredibly passionate and a self-proclaimed comic geek. I think that's who you want at the helm of something like this. It was so personal for him. So yeah, I just knew he was the right guy for it and that I'd be in great hands and that Marvel would be so supportive as well."
We asked her if she had to work by herself much–like with green screens–and she said she wasn't alone very much. But there were times when Benedict Cumberbatch had to be on wires and his body on the table at the same time. So they had a dummy for him. She said it was so lifelike she would talk to it. "I would squeeze his arm and be like, 'Are you okay? You haven't said anything in a while… are you hungry? Can I get you something?'" LOLOL
I shamelessly asked where the dummy is now. She mentioned it might be available to buy online… Jokes… right?! Because I'll sell my… I mean… never mind.
Is there a superpower you'd like to have?
RM: "…I would like to be invisible because I'd love to go into people's houses and see their interior decorating… like when you're driving at night and you can kind of see through the window and you think, oh that looks so cozy in there. I wish I could get a free pass… I'd be a total creeper."
AHAHAHAH! Can she be any more adorable?!
How does it feel knowing that you have a huge fan base that are not Marvel fans and you'll be bringing them into the Marvel Universe?
RM: "That's really exciting. I hope the mean girls like it."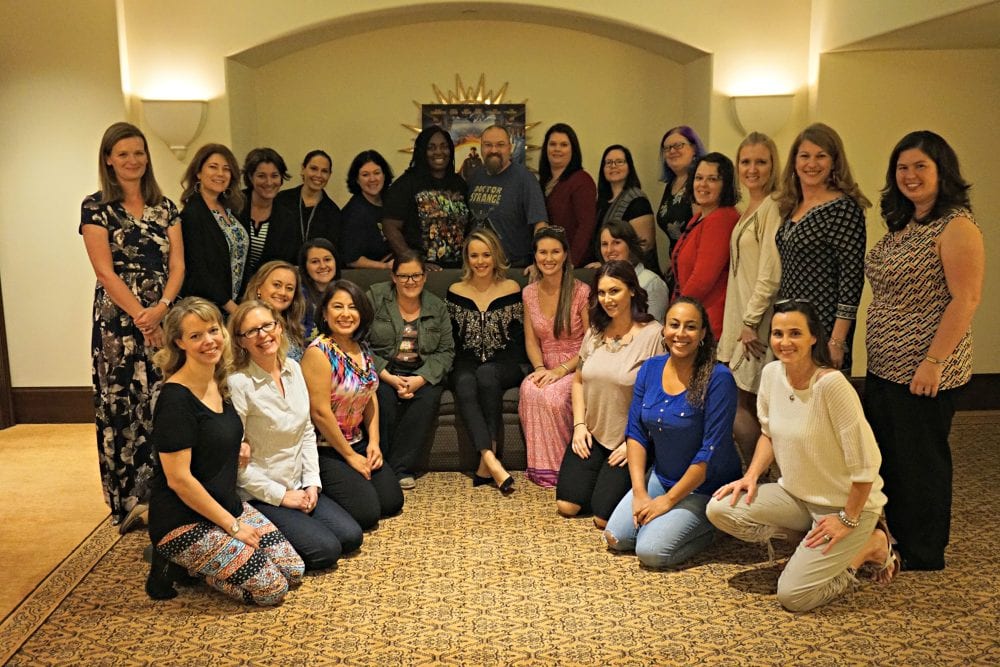 After our interview, we took photos and then I saw her bump into her costars in the hallway and overheard her saying how great WE were! I really cannot get over just how wonderfully sweet she is. A real gem.
See DOCTOR STRANGE in IMAX 3D November 4th!
What part of this Rachel McAdams interview is your favorite?