The Real O'Neals is on ABC on Tuesdays at 7:30 central. If you're not already watching it, set your DVRs and catch up! The show is hilarious. In my opinion, it's the best comedy TV series on right now. While on the Captain America press junket, we were able to meet The Real O'Neals cast members, executive producers, and even screen an episode. All thoughts and opinions shared here are entirely my own.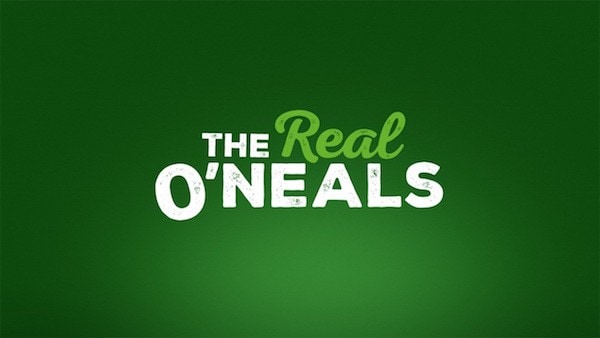 Best Comedy TV Series – The Real O'Neals
The Real O'Neals tv show demonstrates current, hot issues and forces you to laugh them off–all without making too light of them. Some of these things– like coming out, going through a divorce, questioning your beliefs, are really heavy. But it's all relatable stuff. It's honest. It's life. The genius of this show is that it is written and performed in a way that doesn't offend or poke fun. It is real. And really funny.
It's tough to pick a "main" character in this show because it's about the whole family and each receive different amounts of focus in different episodes. However, Kenny steals the show for me. He freaking cracks me up.
Kenny, played perfectly by Noah Galvin, is a teenager growing up in a "strict" catholic family in the Chicago area. Being that I'm from the Chicago burbs, I'd like to point out that the writers really nailed the stereotypical Irish Catholic suburbanite family. I mean, it's on point. This family is struggling with the struggle to maintain their public image. But life is happening and they can't hide it. Underneath it all they love each other. They are all outspoken with one another but it all comes from a strong foundation of family loyalty, respect, and love. Together they are learning that it's okay to be their authentic selves. If that means getting divorced, questioning religion, or coming out, then so be it. They're only discovering each other in new light and growing stronger because of it.
It's refreshing to watch such an honest portrayal of what is going on behind many closed doors in real life (IRL). Sadly, though, behind these IRL closed doors people are scared, ashamed, insecure, and going through all sorts of emotional turmoil. The fear of being honest about yourself is real. It is uplifting and inspiring to laugh about these heavy issues because in reality, they're more common than we think. It's time to stop hiding and spew the secrets. That's what The Real O'Neals is doing and it's actually helping people! The writers and cast members are receiving messages from fans that they were inspired to come out to their family after watching this show.
I love that Eileen (Martha Plimpton) and Pat (Jay R. Ferguson) are going through a friendly divorce. Despite the drama it is stirring up, they are remaining friends and laughing through the chaos. THIS can and does happen in real life! My ex-husband and I have never had a better friendship now that we're separated. We are both in happy relationships now and even go on double dates. The kids are happy and secure. The trick: absolutely no jealousy. We sincerely want each other to be happy. We also want what's best for the kids. We are able to laugh with and at each other. Why? Because life happens. You can either get upset about it or laugh it off and move on.
As Jay said during our interview, "You can really change hearts with laughter." (My gawd his hair is just unnatural.)
Episode 104 – "The Real Book Club"
This episode is so great. You get to see the realistic dynamics when you get real with your peers. More often than not, you're pleasantly surprised and closer because of your more authentic bond. Per usual, while displaying all these serious topics, you'll be cracking up the whole time.
Q & A
We were able to spend some time with: Noah Galvin ("Kenny"), Jay R. Ferguson ("Pat"), Mary Hollis Inboden ("Jodi"), Mathew Shively ("Jimmy") and executive producers/creators: Casey Johnson, David Windsor, and Stacy Traub. We had a great time doing sort of 'musical' interviews. Our group of 25 bloggers were seated at three different tables and the talent would rotate tables every 15-20 minutes.
When asked about where they got the idea for the show, Casey said she brings ideas from her own life about being divorced, and David was raised by two gay dads and his family was Catholic. Between the several gay and Catholic writers, they just try to "bring everyone's experiences that they don't mind exploiting for television." (I'd say it's working out.) 🙂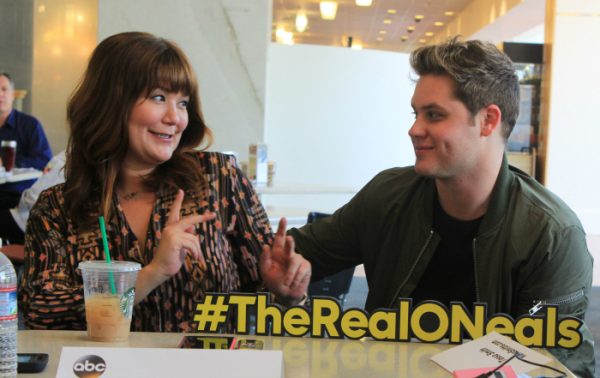 When we asked Matt about his hair on the show he admitted it was his fault. He auditioned with it like that and they loved it. It sort of got him the part. But now he's stuck with it and keeps requesting that they write in a new look for him. Jodi is a hair stylist in the show after all!
"Honestly, it's cool 'cause outside of the show I look like a regular human being and not like a turtle." –Matt Shively
He spent several minutes trying to prove how easy a new hair style would be to fit into the show… a gay brother that would die to give him a makeover, that scene when Jodi was working at the salon and offered to give him a perm… to which Matt said:
"There's literally that line where Jodi says, 'I'll give you a perm.' And I'm like, 'I'll rock that.' That's the most real line I've ever said because I will rock a perm. Let's see what that does." –Matt Shively
I think he might be asking for some help from the fans? Perhaps if we speak up on social media, they'll write him a new do? What do you think? New hair or keep the turtle?
They then went on to discuss how much the cast is like a real family. They love karaoke and spend a lot of time together off the set. During the holidays the group text they all had going had hundreds of messages racked up! I love how close they all are. It's such an adorable bond that totally shows through on screen.
Talking to Jay and Noah was so fun. They have such a great relationship with each other and I totally had to ask about their hair. They never really said who's is better, just that they have different techniques. Jay has the 'I woke up like this' mentality where Noah is okay with putting in some effort. Jay is also addicted to headbands and has one for every occasion. Whatever they're doing, well done guys. Well. Done.
Jay told us that his family is from the deep south where they probably wouldn't be watching the show if he weren't on it. But after watching, they have a better attitude and "they're hearts and minds have already been changed…" He's a huge believer in the philosophy of laughing though the hard stuff. He also added "plus, self-deprecating humor is fantastic."
Noah talked about his dedicated Catholic dad who goes to church every morning. He said he loves the show.
Both Noah and Jay said the dodgeball scene was their favorite to shoot. They had an absolute blast.
Noah told us he was contacted by a fan that was inspired to come out to his family because of him. He actually did it during the show. Noah is thrilled to be an example and give people the courage to be themselves. Especially with their families.
Find out more about The Real O'Neals by liking on Facebook
Following on Twitter
Don't forget to watch live or within 3 days on DVR for it to count for the ratings!
Have you watched the best comedy TV series, The Real O'Neals yet?