Here is a recipe for frozen yogurt that is higher in protein. By using Greek yogurt and cottage cheese, this frozen treat will be a lot higher in protein than a regular recipe. I used an ice cream maker to make this recipe. Here are no churn ice cream recipes if you do not have a machine.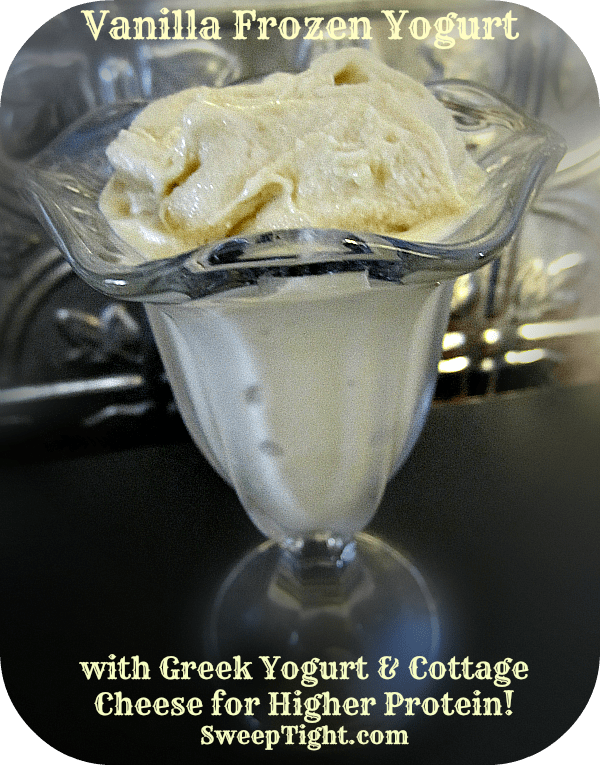 I decided to have fun with my Cuisinart ice cream maker once again. Since I struck gold (in my opinion) with my Nutella Coffee Frozen Yogurt recipe, I thought I would give it another whirl. I had heard that people have used cottage cheese before, so I thought I would try that out, but keep the Greek yogurt, too. That way neither flavor would overpower. Both ingredients contain a nice bit of protein, so that's an added bonus. I am NOT calling this concoction healthy — there's too much sugar for that — but extra protein is still a good thing! In any case, these items are better for you than heavy cream and some of the other typical ingredients. If you have an ice cream obsession like I do, every little tweak helps!
Recipe for Higher Protein Vanilla Frozen Yogurt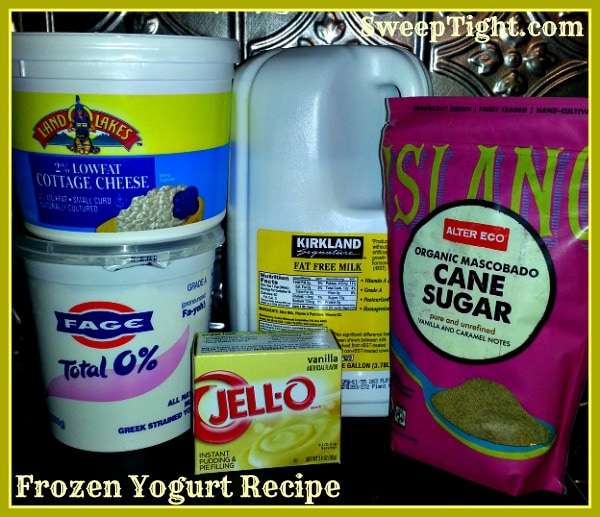 Here's what I used:
1 cup of 2% lowfat cottage cheese. I bought this huge tub at Costco.
1 cup of Fage 0% Greek Yogurt.
1/2 cup of Organic Mascobado Cane Sugar. This was a tad bit too sweet for me. Next time I will use less. Adjust to your taste.
1 whole packet of Jell-o instant vanilla pudding. Switch up the flavors! I cannot wait to try more.
The end result was a tasty frozen treat. The pudding makes it extremely creamy and very flavorful. It had a tiny bit of a cheesecake-ish flavor due to the cottage cheese, I think. I thought it was delicious! It didn't last long, that's for sure!
2018 update: As tasty as I found this recipe to be, there are so many store-bought options out there for high protein ice cream. I may have overestimated the flavor of this recipe at the time — out of desperation for options. Now that I've tried a few high protein, low calorie ice cream brands from the store, I probably wouldn't waste my time making this again. However, I'm leaving the recipe published so you can be the judge. I just wanted to update to be fully transparent. It's still fun to experiment with flavors using an ice cream maker. Plus, when you make your own, you control the ingredients.
Let us know if you whip up something scrumptious!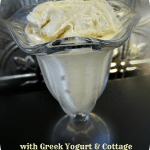 Print Recipe
Higher Protein Vanilla Frozen Yogurt
An attempt to make higher protein vanilla frozen yogurt.
Instructions
Place all ingredients into your blender and blend well.

Pour mixture into your ice cream maker.

Follow ice cream maker instructions.
Nutrition
Calories:
305
kcal
|
Carbohydrates:
53
g
|
Protein:
12
g
|
Fat:
4
g
|
Saturated Fat:
2
g
|
Cholesterol:
17
mg
|
Sodium:
387
mg
|
Potassium:
205
mg
|
Sugar:
50
g
|
Vitamin A:
170
IU
|
Calcium:
168
mg