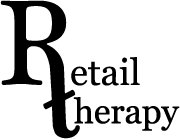 PRODUCT NAME: Retail Therapy – Take Care of the World Tee

WHERE TO BUY:  Shop online. Check for store locations near you.
APPROXIMATE COST:  $44.00
Every month a percentage of the profits go to a charity – vote for which charity you think should get the donation this month!

PRODUCT DESCRIPTION (from site):

Our first men's tee was inspired by our motto "Take Care of Yourself, Take Care of the World." It comes in heathered navy blue with green writing. We have found a of lot women wearing this unisex tee as well.

• Made of organic cotton, recycled polyester and naturally occurring rayon
• Silk screened with non-phthalate water-based inks
• Individually rubbed with rocks to get that funky worn look at the edges
• Prewashed so it won't shrink
• Organic cotton "RT" logo tag on the bottom left side
• Comes with our famous seed embedded hang tags that are made from post-consumer waste. Plant it and you will grow wildflowers.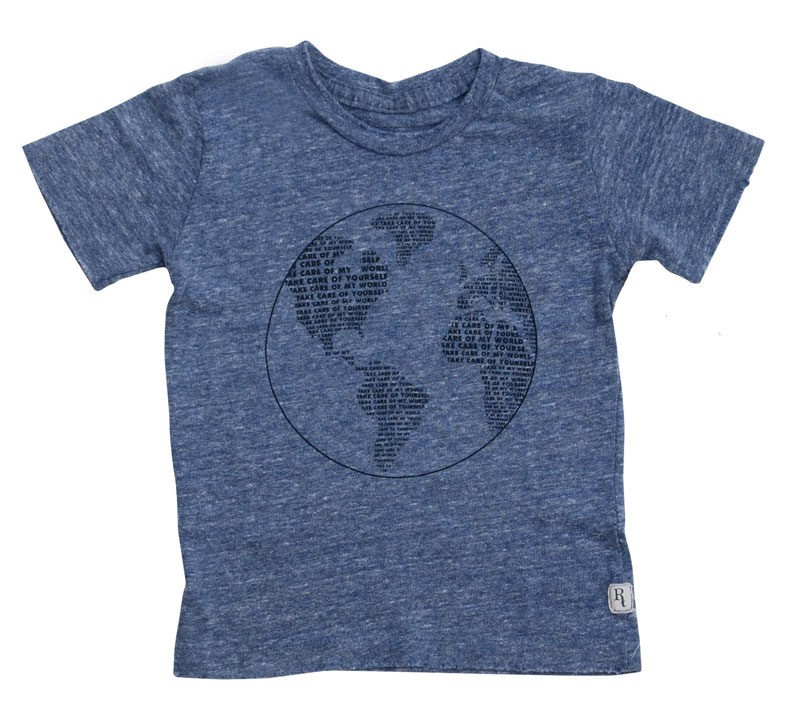 FIND THEM  ON THE WEB:
Website
Facebook
Twitter
Blog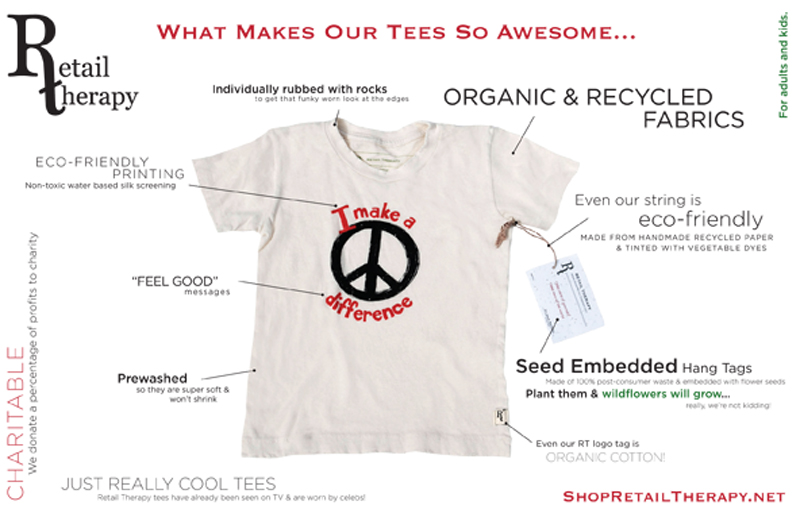 MY REVIEW:
This shirt is so soft! I could seriously wear it every day, it's just so comfortable. It feels like one of those tees that you've owned forever and ever, but looks brand new. Actually, it even looks cute on. I feel like I am dressed in my pajamas, but I don't look like it! Works for me!
I am so impressed that every single thing about this item is eco-friendly. The message printed on it is to take care of the world. You can actually plant the hang tag! It has seeds embedded in it and will grow once planted and cared for. Even the string that attaches the tag is made from recycled paper. Dr. Jenn Berman, the owner, included her business card which is also embedded with wildflower seeds!
I was able to machine wash and dry the shirt without it shrinking at all. Another bonus is that there is no itchy tag on the inside of the shirt. Just some light printed care instructions.
This is such a feel-good company. Nothing but positive messages and wonderful organic products. I can see why even the celebs are wearing them!
Disclosure:  I received a free product in exchange for my honest review. No monetary compensation was received. Regardless, I only recommend products or services I use personally and believe will be good for my readers. Sponsor is fully responsible for shipping prize. I am disclosing this in accordance with the Federal Trade Commissions 16 CFR, Part 255 "Guides Concerning the Use of Endorsements and Testimonials in Advertising.