To start, I would like to say that in my experience, reviewing books has been, well, pretty much a drag. I have had the opportunity to read several and only a couple have made the cut to actually deserve a spot on Sweep Tight.
Now, when offered the chance to do a book review, I make it known that if I don't like it, the review is trashed (so, basically, don't waste my time on something awful.)
I don't want my personal opinion to destroy someone's business, but I have to be 100% honest when giving my review. So, when this publicist came to me with the opportunity to review Anything is Possible by Thomas Bähler, poor lady, I was borderline rude when I wrote "is this worth my time?"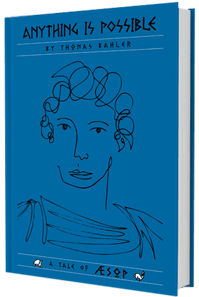 Anything is Possible – Thomas Bähler
She assured me it was and sent me a copy.
For her: "Thank you!"
And, for Thomas Bähler, I bow to you for such a brilliant work that has changed the way I look at daily life.
Coincidentally, I started Anything is Possible at the same time my son came home with a reading project from school. He was loaned a Nook and instructed to choose from several works and read 20 minutes daily. His first choice was a collection of Æsop's Fables.
Everyday he was so excited to tell me about the little stories he was reading. It brought back all the memories from when I was a kid when my grandparents or parents would use these anecdotes to teach a lesson or prove a point. I've even used The Boy Who Cried Wolf in a lecture or two with my kids.
But I was taking these fables for granted. They are classic, yes, but I had gotten so used to hearing them that they sort of lost meaning.
Reading Anything is Possible brought to light just how truly brilliant these simple stories are. This book tells the tale of Æsop. It gives you insight into one of the greats. A person who was able to earn his freedom from slavery using wit, wisdom and patience in a time where people were simple-minded.
As with most of the epic heroes, he was ahead of his time with his ability to think openly and take complex issues and put them into a story that connects with the masses.
More than anything, Anything is Possible, is beautifully and tactfully written. The characters come to life with such full personalities I feel like I know each of them deeply. The entire time I was reading this book, I kept thinking this author must be a psychologist or something to be able to capture the human condition so effectively and uniquely in each character.
It wasn't until after I completed the book that I read about the author. I was extremely impressed to learn that this is his first book! Very impressive. Otherwise he is known for composing, producing and consulting. He's worked with incredible people such as Steven Spielberg, Quincy Jones, and many more.
This book has motivated me to become a better parent, teacher—it's amazing how those two roles are one in the same—and listener. I will be the first to admit, parenting is an enormous struggle.
Through reading Anything is Possible, I learned that to teach is to guide and inspire. While I'm not an actual teacher working in a school, being a parent is being a teacher.
From how to tie shoes to how to look into yourself and find who you are, a parent is responsible for teaching how to live. I was completely missing this point before reading this book. I was so caught up in tasking, I was forgetting to educate the hows of life.
I'd rather pour my kids a glass of milk, than show them how to do it. They are 10 and 7 and I've enabled little ninnies! I was blindly and hastily scrambling through my days, rushing and hollering at my kids to "hurry up" and "forget it, I'll just do it."
Blegh! What was I thinking!
Æsop not only showed me that Anything is Possible, but that with patience and guidance, humans (my children) are capable of limitless growth.
"The level of our success is limited only by our imagination." –Æsop
I highly recommend Anything is Possible. It is an unforgettable experience.
Oh, and just a silly side note: I hate when I'm reading a book and I don't know how to pronounce a character's name. I get mentally stuck on it through the whole book and it really seems to take away from the story.
In this book, there is a list of pronunciations right in the beginning! Just brilliant. 🙂