Bright Starts Toys

Bright Starts has some amazing toys! They have been creating a fascinating world for babies for more than 40 years. I have bought Bright Start toys for all of my kids and they always love them. They are always colorful, eye catching, fun and they are always perfect for the specified age on the package! Product was received for review purposes and this post may contain affiliate links.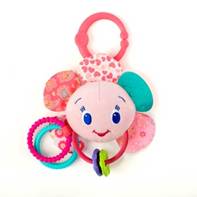 We were sent four baby toys to review! Oh, did we have fun! These toys were intended for my niece, who is just three weeks younger than my son (14 months). My son, however, really liked these toys too! The first item I want to tell you about is the Pretty in Pink Play-a-Lot Petals. This toy was a hit! It's bright, adorable and has multiple activities for baby! The toy includes a baby-safe mirror on the back, a bead chaser, a teether and has the crinkle petals. I love that it has so many features. My son and niece both love the crinkle! Another mom-friendly feature: it has the link to attach it to a stroller, a carrier or a crib so baby can't throw the toy in the ground! We love that too!

The next toy is the Pretty in Pink Bloom Rattle. My niece took over this toy! Again, the petals are crinkle and the babies love this! The rattle makes fun sounds when moved and it's easy for them to hold! My niece loves chewing on the stem of this toy for some reason, they always go after the parts that surprise us, don't they? This is another fun, bright and cheerful toy from Bright Starts!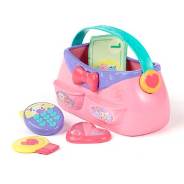 Here, we have the Pretty in Pink Put & Take Purse! How cute is this? This toy retails for approximately $13.99 and is a GREAT toy for baby girls! The purse has some cute and fun accessories! It has a cell phone that includes rattle beads, 2 pieces of crinkle money, teether keys and a heart shaped mirror – all of the accessories a little girl will need in her first play purse! The bow on the front of the purse is a push button that plays cute, catching sounds that baby will smile about! Both my son and my niece loved this feature of the purse. It's the perfect size for them to carry around and put their items in. They loved it!
The three above toys are all "pink" products and a portion of the proceeds from sales of these items will support breast cancer charities! Thumbs up to Bright Starts for that!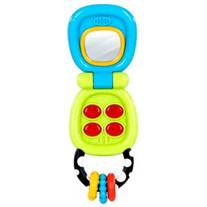 Lastly, we have the Start Your Senses My Little Flip Phone. This is a great first phone for baby/toddler to carry around. It makes fun sounds for entertaining baby and has four buttons that light up when pressed. My son LOVES this phone. He is always trying to grab our phones and TV remote controls so I was happy he could have his own phone! It also has a baby-safe mirror when the phone is flipped open, great for self-discoveries!
All of these toys make great gifts for baby showers, baby's first birthday, or just because! They are great toys that capture a little one's attention, they entertain, they are bright and colorful and most importantly, they are FUN!
You can follow Bright Starts on Facebook and Twitter to keep up with their company and product information! We highly recommend Bright Starts, we love them and we know you'll love them too!