Daddy Scrubs – T-Shirt and Scrubs

Daddy Scrubs, was created by a man who was about to be a father…again. After twenty+ years had passed since his first four children were born, Robert Nickell had remarried and he and his wife were expecting a baby. Robert wanted to have something comfortable to wear while he was tending to his laboring wife. He came up with the idea of having doctor-like scrubs, however, in order to prevent confusion between who was the daddy and who was the doctor, he came up with the idea of "I'm the Daddy" scrubs and so his company was born! Product was received for review purposes and this post may contain affiliate links.
I think Daddy Scrubs are a genius idea on how to include dad in the delivery. Typically it is all about mom and baby, but this is a great way to make dad feel important, included and proud! These products make fabulous baby shower gifts for dad and are perfect for wearing during the hospital stay! If the dad-to-be in your life isn't the scrub type person, they also have t-shirts (long or short sleeved), hoodies, hats and coffee mugs available. They also have some great books available! Outside of the individual items, they have incredible gift packs available – I think these are the best items for "daddy" shower gifts. Why not include dad in the shower too? He'll be pleasantly surprised that he has a gift that is for him!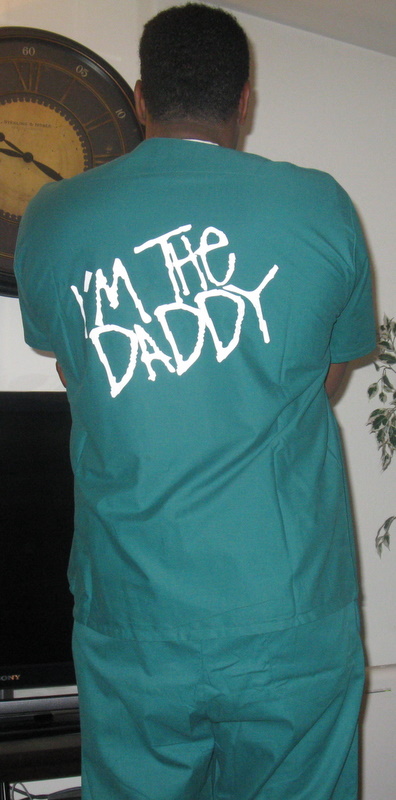 Our baby girl is due this coming February and my husband has both the scrubs and the long-sleeved t-shirt for our hospital stay. The scrubs are perfect for being comfortable during that time that he has to be there for me during labor. The scrubs are incredibly soft and comfortable. In fact, they are so soft that if they didn't say "I'm the Daddy" on them I would probably steal them to wear around the house! The t-shirt I felt was perfect for the day after our baby arrives for wearing in the hospital, where he would still feel important and part of the whole event! What man isn't proud to announce "I'm the Daddy" during and in the days after his new baby is born!? I love that the t-shirts are available in short or long sleeves, perfect for any season when your little one arrives. This company really is one of the few that I have seen with a great way to include dad. MY husband even said that he loves that they make him feel like he's a part of everything and he's excited to wear the scrubs and the t-shirt at the hospital. I didn't even have to tell him that was the whole point of the company!
Make sure you visit the Daddy Scrubs site to order that something special gift for the new daddy in your life, whether he be your husband, brother, cousin, friend or what have you! Every new dad deserves something like these products to feel extra special during that extra special delivery! Follow Daddy Scrubs on Facebook and Twitter for company information!