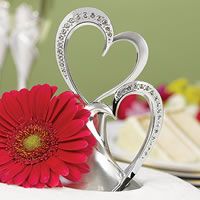 Sparkling Love Cake Top
You are engaged, now what? Time to be completely overwhelmed with wedding planning! Lots of decisions to make, details to organize and items to purchase for that special day. Personally, I had no clue where to start!
One thing I knew for sure is that I would probably get most of the items I needed online. Obviously, I am a fan of online shopping, as you can see if you are a regular reader. There are so many online bridal shops to choose from, that in itself can be tricky. Now that I have gotten to know WhereBridesGo.com, I can say that I would highly recommend giving them a shot! Not only are they one of the largest online bridal accessories stores in the country, but I am also comforted to know that they have been around since 2002.
I had the opportunity to choose a product to review from the site. Wow, that was tough! So many amazing products to choose from! Ultimately, I was drawn to the Sparkling Love Cake Top. We are not the most traditional couple, so I thought I would get something different than a bride and groom. These hearts match our style more.
When it arrived I was even happier! Sometimes a product like this will look fabulous in the online picture, but cheap once you see it in person. Not this! It's absolutely gorgeous. Super shiny, sturdy and sparkly!

(My camera doesn't do it justice either.)
Which one would you choose?
Rainbow Crumbs for You
Weekly newsletter with our latest posts and shenanigans.