Frownies Face Lift in a Bag
I am starting to be very self conscious about these fine lines popping up on my face. They are becoming more and more noticeable to me. That is the last thing I want to think about on my wedding day. I want my pictures to reflect my happiness and not any of the stress and premature aging lines!
What better way to get my face bridal ready than with a Face Lift in a Bag from Frownies? This bag contains all the products you need to wake up a tired face and bring back a youthful glow. I was absolutely ecstatic to be able to review them all!
Here are my thoughts about each product in the bag:
pH Balancing Complexion Wash:  This wash works up a nice lather and leaves my face feeling fresh and clean. I noticed the dullness disappearing just after a few uses.
Biologically Active Immune Perféct:  I had to do a double take on this one at first. It is a brownish color so I thought it would look like foundation when I put it on, but it absorbs in clearly on the skin. I was left with a very soft and smooth feeling. The instructions also say to massage your face while applying it. That left me feeling relaxed as well. I was never really aware of how much tension I carry around on my face. I am constantly raising my eyebrows or making some kind of wrinkle-inducing expression. Taking the time to massage those areas is very beneficial. The antioxidants in this moisturizer will nourish and help strengthen my skin's immune health.
Rose Water Hydrator:  Although I do not have dry skin, this toner still feels very refreshing. People who do experience dryness can spray it all day to moisten the skin. I will probably just stick to spraying it on the facial patches.
Forehead and Between Eyes Facial Patches:  It took me a minute to figure these out. You have to smooth your skin with one hand and apply with the other. Just lightly pull your skin flat to smooth out wrinkles. Once you have sprayed some Rose Water Hydrator on the back of the patch, place it over the smoothed area. This trains the skin to stay smoother. These are to be used for the vertical lines between your eyebrows and the horizontal ones on your forehead – one of my biggest problem areas!
Corner of Eyes and Mouth Patch:  Same concept as above but shaped for the crows-feet and marionette lines. The lines around my eyes are getting really bad. I squint a lot so I will be getting a lot of use out of these. The best part is once you get these patches on, you don't even know you are wearing them. So, it's easy to relax and just fall asleep in them.
Gel Eye Patches:  I cannot express how deeply in love I am with these patches. They are amazing! Definitely my favorite. I have only kept them on for a half hour at a time so I can use them again. During the entire time the patches stay cool. They feel completely refreshing and wake up tired eyes. I don't think I have ever seen results so amazing after I removed them. Not only did any puffiness disappear, but my fine lines were smoothed and dark circles were diminished dramatically. If you get anything from the Frownies line, get these!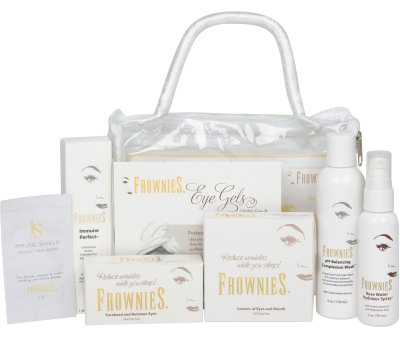 All of these products come in a clear plastic bag and have a value of $215.00!!! Get it while you can at the introductory rate of $128.50.
If you want the ultimate treat for your face, get this bag. I was very pleased with my results and highly recommend all of these products!