I was recently asked to review a bottle of Garlic Gold Oil, a garlic-infused olive oil. Before I actually used it, I imagined what it might taste like and hoped against hope that it wouldn't be one of those garlic infused products that tasted like spicy feet. There's nothing worse than the taste of fake garlic.
Garlic Gold Oil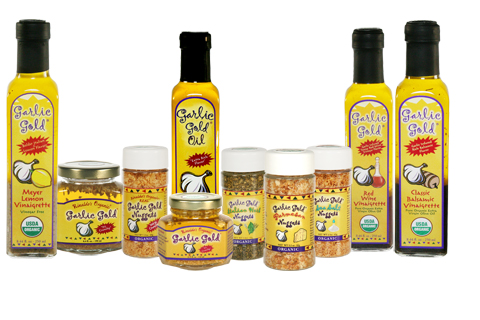 When I opened the Garlic Gold Oil bottle, my imagined worries were instantly destroyed under a tidal wave of pure garlic goodness. This is no olive oil with just a "hint" of garlic. This is full on garlic in the bottle awesomeness. If you love garlic, this stuff is like liquefied Heaven. I honestly just closed my eyes and breathed in the scent of the oil for a few seconds. It smelled that good.
I decided to use the oil as a base for an Italian breadcrumb and parmesan cheese coating on baked chicken. The garlic flavor in the oil worked beautifully with the Italian seasonings in the breadcrumbs and the parmesan cheese.
Below is my recipe:
Ingredients
2 tablespoons olive oil
1 clove garlic, minced
1 cup dry breadcrumbs
2/3 cup grated Parmesan cheese
1 teaspoon dried basil leaves
1/4 teaspoon ground black pepper
6 skinless, boneless chicken breast halves
Directions
Preheat oven to 350 degrees F (175 degrees C). Lightly grease a 9 x 13 inch baking dish.
In a bowl, blend the olive oil and garlic. In a separate bowl, mix the breadcrumbs, Parmesan cheese, basil, and pepper.
Dip each chicken breast in the oil mixture first, then in the breadcrumb mixture. Arrange the coated chicken breasts in the prepared baking dish and top with any remaining breadcrumb mixture.
Bake 30 minutes in the preheated oven, or until chicken is no longer pink and juices run clear.
That was my recipe, but any way you decide to use this garlic oil, you can't go wrong. In fact, after I'm finished with this article, I plan to take some nice, fresh Italian bread slices, brush them with a mixture of basil, oregano, thyme, and Garlic Gold Oil, throw it all under the broiler, and just bask in the flavor. It is THAT good.
My mission was to provide a fair picture of this oil and be sure that I listed any drawbacks or deficiencies, but after using it the only negative thing I can say is that I wish I'd gotten to use it sooner!
If you love garlic, then you owe it to yourself to get some Garlic Gold Oil. This stuff is truly amazing. It's the best garlic infused anything I've ever tried.