Bed of nails — sounds like something everyone should quite purposely avoid, right? Well, don't let the name scare you off. Although the mat is surely sharp, the feeling and benefits it provides are well worth it.
I received a Bed of Nails and I will provide my honest review for you today.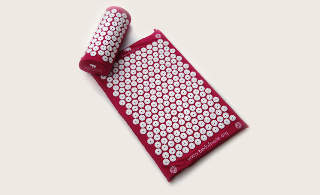 Bed of Nails Acupressure Mat – Why?
While revitalizing and rejuvenating, it may also help you with the following:
– Relieve chronic neck and back pain
– Reduce stress and anxiety
– Improve sleep and relieve insomnia
– Increase energy level
– Improve circulation
– Improve skin complexion
– Relieve constipation
– Cellulite treatment
Something I don't think I have ever mentioned on this blog yet is that I suffer from moderate to severe anxiety. At times it gets so bad I do not want to leave my house.
I burned my bridges with prescription medications (another story), so now I always seek homeopathic remedies.
See more suggestions in the gifts for people with anxiety post.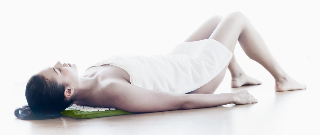 Recently I was advised to try acupuncture. I did a few treatments and was pleased with the results. I experienced an overall feeling of calm and almost a high after my sessions.
Unfortunately, I cannot afford regular acupuncture treatments.
Since I had positive results with acupuncture, I was extremely eager to try out the Bed of Nails.
Acupressure works similarly to acupuncture and I can do it right from my bedroom!
Bed of Nails
Buy Now
We earn a commission if you click this link and make a purchase at no additional cost to you.
10/01/2022 12:01 am GMT
To be honest, when I first saw the Bed of Nails online, I thought there was no way the plastic could be sharp enough to be effective. Boy, was I wrong. These spikes are no joke. They are very sharp and parents should take extra caution to keep kids and pets away.
It is recommended that beginners wear a t-shirt at first and work their way up to using the mat on bare skin. I second that!
Now that I have gotten used to the spikes and have found a comfortable way to lay on the mat, I absolutely love it.
I look forward to taking my time to relax on the mat before bed every night (or at any time of the day). I feel a sense of calm and general well-being after using it.
Sure, it stings a little when I first lay down, but then the stinging turns into a pleasant tingling sensation.
Not only do I feel as though the Bed of Nails helps ease my anxiety, but I also find it helpful in relieving my tension headaches.
I think these headaches I experience frequently are directly related to my anxiety. I find that if I catch them early enough, by relaxing and laying on the mat, it can pretty much stop them in their tracks.
I always thought the term "good pain" was an oxymoron, but it is not! That is exactly what this feeling is. It's really quite amazing! You have to feel it for yourself!
Give the Bed of Nails a try for yourself. Work it into your self-care time or use during meditation.