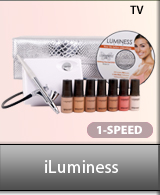 iLuminess

Beauty Series Airbrush Cosmetics System

Luminess Air was featured on one of my favorite shows!

Gotta love a company that gives back!  Luminess Air strongly supports UNICEF and other children's causes along with various breast cancer and women's health organizations.


I often fantasize about looking like a Victoria's Secret model, or any model for that matter. If I ever voice this dream out loud, someone always says something like "oh, she's all airbrushed", or something to that effect. Well, what do you know? Now I can airbrush myself! AT HOME!

I was very interested in this machine because of my acne prone skin, too. Since you do not need to use your hands or germ-collecting tools over and over, you are avoiding a lot of contact with bacteria. The mineral makeup itself is recommended by dermatologists. Oh and another bonus – Luminess never tests on animals!

At first I was completely frightened by this machine. Until now, I have always thought that airbrush machines are for professional use only and I am far from a pro. Thank goodness they include an instructional DVD. After watching it and practicing several times, I can now get the seamless look I was after.

Even with the DVD's clear instruction, I still looked like a clown the first try! They tell you over and over not to pull back too far on the stylus so, of course that's what I did! It took me a few tries to master the motion and speed needed for proper application. Trust me, if I can do this at all, anyone can!

Now I can do more contouring and also conceal my blemishes better, but I have still not completely mastered the eye shadow. I can get it to look okay, but I still need more practice.

Overall, this is a very fun way to apply makeup! It's feels like a cool breeze going on and looks completely natural. Even if you have no artistic talent, you can easily use this machine. Once you get more comfortable with it, you can make it look like you just had your makeup done by a professional!

By my wedding day, I won't even need to hire anyone to do my makeup. I will be a pro by then and no one will know the difference!