Exclusive Black & White Smarty Plates with Baroque Cutlery accented with a Black Tuxedo Napkin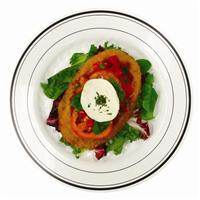 I received a promotional pack consisting of party supplies for 15 people:
· (15) 10.25″ Smarty Black and White Dinner Plates · (15) 7.5" Smarty Black and White Salad Plates · (15) Black Tuxedo Napkins · (20) Baroque Dinner Forks · (20) Baroque Serrated Knives · (20) Baroque Spoons 
My family is pretty big and all gatherings take place at my grandparent's house. Every holiday it seems like the majority of the women spend so much time washing the dishes and miss most of the party. This Christmas was the first time that my Grandmother finally gave in and let us bring disposable dinnerware and boy, did it make a difference! The cleanup was so much easier and everyone had more time to socialize and spend time with family.
I really wish I would have known about Smarty Had a Party then because what they have to offer is so much better than what you typically find in stores! With this set, you can barely notice that you are using plastic. It is so sturdy and heavyweight. Not to mention how classy it looks!
To try it out, I set the table for dinner one night for just me and my fiance. Before he sat down he said, "Wow, what's the occasion?" He thought I had invested in a fancier set of dinner plates. He was shocked when he went to use it and realized that it is in fact plastic. I think the Tuxedo Fold Linen-Like Napkins are what really make the look complete.
I can definitely say that I have never been more impressed by a set of disposable dinnerware. The silverware is my most favorite. Sometimes plastic forks seem to break very easily and have a strange feel to them. Not these. They are a lot stronger. I must admit that I am going to have a hard time throwing these away. I may have to wash them to get a few uses out of them!
Next time you need to plan a party, be a smarty! At Smarty Had A Party they have an enormous collection and are sure to have all your party supply needs!