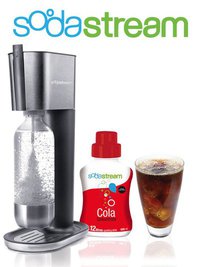 SodaStream

Personally, I drink pop on very rare occasions. Yes "POP" – that's what we call it here in the Midwest. I usually avoid it because of all the sugar, high-fructose corn syrup and empty calories. Mike drinks it all the time and is always asking me to buy it. I give him a hard time about it because I like to spend the grocery money on healthier choices.
So, needless to say that Mike was over the moon when we received our SodaStream. He was like a kid on Christmas and still is. I am happy, too. Although I love water, it's nice to enjoy a glass of pop from time to time. Especially with pizza.
SodaStream is beyond easy to use. First off, I was thrilled to see that it does not need to be plugged in. We are running out of counter space near outlets. It also does not require batteries.
For some reason I was afraid of the CO2 cartridge at first. I don't know…something about compressed gas in a tank freaks me out. I got over it very quickly when I saw how easy it is to hook up to the unit. Not scary at all.
I love that you can transform plain tap water into a sparkly beverage in barely no time at all.
~Just fill up the bottle to the fill line.  ~Hook it up to the unit.  ~Press the button a few times until you hear a loud buzz to carbonate the water. This may be enough carbonation for some, but we unhook it to release some pressure, then hook it up again to give it a couple more squirts. After that it is perfect!  ~Time to add the flavor. Just choose which one you would like and dump in the syrup. Of course, Mike adds more than is called for. He likes everything to be extra flavorful! ~Enjoy!
The syrups that you use are by far a better choice than regular sodas. They have substantially less calories, healthier ingredients and less sugar. I feel much better about serving this to anyone as opposed to sugar-laden beverages. Personally, I am looking forward to the Sparkling Naturals because I am a little iffy about Splenda. I really try and stay away from artificial sweeteners.
I left the taste test all up to Mike. He is the one that can be completely fair when comparing SodaStream drinks to regular sodas. He really likes them! At first he noticed the less sugary flavor, but got used to it very quickly. Now he is guzzling it by the liter and really enjoys it. His favorites are the Root Bear, Pete's Choice and Energy.
My only suggestion to the SodaStream folks would be to add a little spout on the syrup bottles so it's easier to pour in. It tends to drip a little. Other than that, we are very happy with our SodaStream!