The Couponizer
PRODUCT FEATURES:

The Couponizer booklet – measures 8″ tall, 6″ wide, 1″ deep (before coupons), 18 pockets for grocery coupons, 6 pockets for other coupons such as Restaurants, Retail, Rewards, 2 shopping pockets (Coupons to be used this shopping trip & Checkout), 3 loyalty card card sleeves, metal spiral bind, elastic closure strap, durable plastic covers. The system also includes:
1 Shopping List pad – 20 tear off sheets/cardboard backing
1 CoupTracker pad – 15 tear off sheets/cardboard backing for record spending and savings by store
1 CoupStacker – pre-sorting mat used to organize coupons according to pocket when clipping
1 Carrying Bag – clear zippered vinyl bag
1 pair of scissors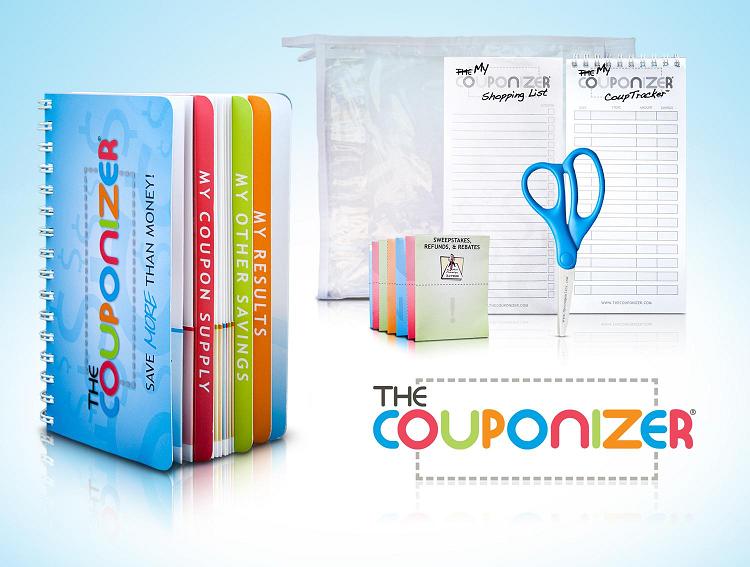 I have been using coupons for as long as I can remember. My grandmother raised me to do so. However, my coupon use is not always consistent. Sometimes I am just not organized enough to deal with them at the store. Proper couponing requires planning and organizing for maximum savings!
Over the years I have tried many methods of organizing coupons. Some have worked, but I still always find myself using extra envelopes because there are more than just grocery coupons these days. There are restaurant.com vouchers, groupons, rebates and all kinds of different printable savings that need to find a place in my purse!
If you plan to start couponing, you need to be organized. That is the most important key to saving money, in my opinion, and I cannot stress it enough. Recently I let two awesome groupons expire and I literally lost some sleep over it! So, if you think that spending money on something like this goes against your plan to save, think again. I was once told to, "take the penny out of your eye, so you can see the dollar", and I think that applies in this case. Consider this a necessary tool needed to become a savvy saver.


The Couponizer not only has pouches for grocery coupons, but also for entertainment, restaurants, services, shops, rebates and even sweepstakes! In the front there is a shopping list pad which is very handy. Then, the first few pockets are for coupons you plan to use on your upcoming shopping trip. This is great so you are not fumbling around in the checkout line.
I do believe the maker of the Couponizer has thought of everything! I think this will be a system that I stick with for quite some time!