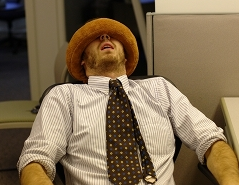 Wrap-A-Nap ~ Sleep Anywhere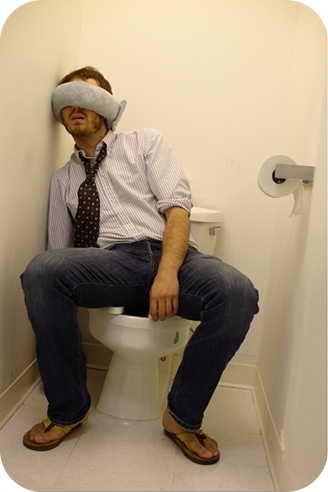 Words cannot express how much I adore this simple, yet genius invention! When I was younger I could fall asleep anywhere and everywhere. Once I entered my mid-twenties I started having problems staying asleep. It's all gone downhill from there. Now I am a completely light sleeper and struggle with it often.
One of my favorite things to do is take a nap. I get up extremely early even on my days off work, so a nap is usually needed as much as it is wanted. Sleeping during the day is even more challenging because of the outside noises. Apparently no one else in my neighborhood is on board with nap-time. I really belong in Mexico where siestas are just a way of life.
Here is another product where I am kicking myself and saying, "Why didn't I think of that?", because I have seriously tried to wrap a blanket around my face for the same effect. It doesn't work out well at all. The Wrap-A-Nap is like a soft hug. I wear it at night to go to sleep, too, not just for naps. I swear to you the first night I wore it I slept 10 hours! Amazing! I have not skipped a night for about a week and have been sleeping so much sounder. Because of the pillow wrapping all around my eyes and ears, enough light and noise is blocked out to keep me in dreamland. It's easy to sweep tight with a Wrap-A-Nap. (Haha, sorry had to do it.)
The next time I take a flight I will be bringing my WAN, too. Even if I don't wear it to nap, I can wrap it around my neck and it feels great.
If you are a light sleeper you need a Wrap-A-Nap. If you like comfy things, you need one, too. Everyone needs one!