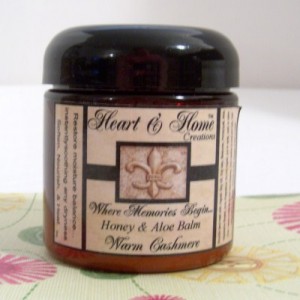 I am a sucker for bath and body products. When the opportunity to review a product from Heart & Home Creations, I jumped at the chance. After poring over their site, I finally decided on the Honey and Aloe Balm. Then, I had to choose a scent. They all sounded so intriguing…which to choose, which to choose. I finally settled on Warm Cashmere. Product was received for review purposes and this post may contain affiliate links.
When the jar arrived, I was pleasantly surprised by the packaging. Heart & Home uses amber colored jars, like the old medicine bottles. It fits right in with their website and labeling. I opened the jar and was a little confused. For some reason, I had it in my head that it was supposed to be body butter. But this…this was a solid jar. After a little research, I realized that I had Honey & Aloe Balm – which was exactly what I had requested!!
So, I dipped into the jar. How was this going to work? The texture is between firm body butter and a lotion bar. It's a bit difficult to get out of the jar at first and would possibly be better served in a wide mouth jar or a large tin.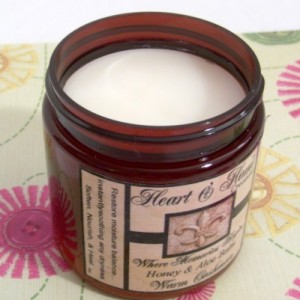 The balm soaks in nicely. There's no greasy feel and the moisturizing qualities are long lasting. The scent lingers, as the Honey & Aloe Balm is highly scented. If you like to wear perfume or are sensitive to scents, I would recommend getting  this unscented.
After using this for about a week, I noticed that my dry, rough patches of skin are much better – practically non-existent, in fact. I even had my mom use it, as she suffers from really dry skin – I call it alligator skin! Her dry skin has virtually disappeared, as well.