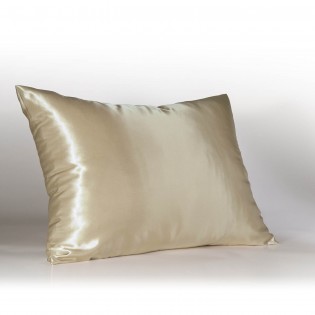 Satin Pillowcase With Hidden Zipper
Silky Smooth Satin Pillowcase with Hidden Zipper
Protects all hairstyles, Reduces hair breakage
Gentle to hair and scalp
Maintains moisture balance in hair and skin
Choose from our Selection of 23 Colors!
Concealed Zipper
100% polyester satin
Machine washable
Satin sheets have always looked so inviting to me. I have never actually tried them until now. I have seen them attractively made up on displays at the store and they look so rich and classy. Not to mention, extremely comfortable.
Now that I have gotten a first-hand experience with these satin pillowcases, I can see the attraction even more. I love the feeling of the cool, smooth satin against my skin. I also like their appearance on my bed. They stand out when I walk into my room. I am seriously considering getting a whole set now.
There are many colors to choose from. I chose champagne which matched most nicely with my current setup.

Another benefit to these pillow cases is the hidden zipper. I cannot tell you how many times Mike's pillow case needs to be put back on his pillow. I don't know what he does in his sleep, but he manages to remove the pillow case all the time. With the hidden zipper, this does not happen. There is no way it's slipping off with the zipper closed. There is no worry of being scratched by the zipper because it is safely concealed under a flap of material. You don't even know it's there.
Satin pillow cases are a treat! They would make an excellent housewarming, bridal shower, or wedding gift!
Which one would you chose?

Rainbow Crumbs for You
Weekly newsletter with our latest posts and shenanigans.