Delta has allowed us to easily update our kitchen. As we make progress on our home projects, it is SO fun to be able to do some projects I am really excited about. Adding the new faucet to the kitchen was one that I was excited about, REALLY excited about. Delta was so kind as to let me review one of their Touch20® faucets – I chose one from the Pilar collection. It has simple lines and of course I can touch it to turn it on (whoa!). Product received for review. Post contains affiliate links.
First – lets take a look at the old faucet:

If I was not on a limited budget from just purchasing a home, we would be ripping out the whole counter top and sink – but alas – we are not right now. Switching out the faucet can be a quick and easy to way to make a change (especially since a stainless sink can be cleaned and counter-tops can be painted). A huge poster with only FOUR steps was included for installation of the new faucet. Even with the Touch20® part of it, it was an easy installation once we got the old one out (the old one required about 3 hours of ingenuity and creativity to remove).
And – tada! The new faucet:
Delta Pilar Faucet with Touch20 Technology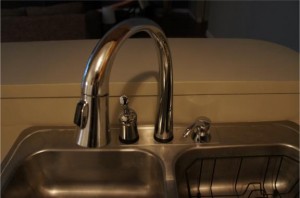 After installing and turning the water back on, I started testing. Touch on. Touch off. Touch on. Touch off. Where is the water?! OH you have to turn on the water with the handle before it will be on for touch. Yes, this might be obvious to some, but it can be weird if you expect to touch on and touch off and the water handle is in the off position. Now that I have the hang of it, touch on, touch off, touch on, touch off… I am glad I do not have kids yet, this is really too much fun and I am wasting water! – Overall, I think the faucet would be more functional in a deeper sink (guess that will be my next kitchen upgrade), but I think the detachable head is great because I can fill up my giant watering can or a large bucket by placing it on the counter and placing the head directly in the container. I also like the soap dispenser because it cleans up the look of the sink and counter top – no more dish soap sitting out.
If you are looking for a new look in the kitchen – A new Delta faucet can make all the difference AND I think as long as you know what you are doing (or are willing to look to youtube to figure it out like I did) you should be able to handle the project yourself. Delta has an amazing collection of kitchen (and bath) faucets both touch and not touch, you can find out more about their products at DeltaFaucet.com. Just a note: the SRP that is listed is not usually the price in stores – and from what I have observed in my MANY trips to the hardware store in the last few weeks, it can actually be higher on the website by a few hundred dollars – so make a few choices and head out to your local big box hardware store, or amazon and check them out before you get scared away 🙂
Rainbow Crumbs for You
Weekly newsletter with our latest posts and shenanigans.